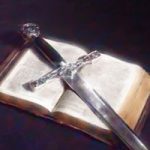 Does it make you feel better to know that even Jesus was tested? What can we learn from his response to the devil's schemes?
We see Jesus in this passage from the perspective of knowing who he is and how his life played out. Imagine if we were only seeing him for the first time in these few verses. What if we didn't understand or realize he was the Son of God? Read the passage again through that lens (yes, I know it's hard).
What are your impressions now? Here are some of my observations.
The devil knew Jesus was the Son of God. I wonder how?
I can't imagine not eating for 40 days! I definitely would be hungry, I'd want to eat everything in sight!
Boy, Jesus was strong to resist that bread!
The devil tried to use Scripture, too, to fool Jesus. Crafty. Some people try to use it for their own purposes, too.
Why didn't Jesus run away from the devil?
It is so important that we rely on Scripture as our protection. Our lives are a constant struggle with sin and evil. Hebrews 4:12 describes God's word as "living and powerful, and sharper than any two-edged sword." This is indeed the weapon Jesus used against the devil. We, too, can rely on the truth of God's word to protect us in times of temptation.
There are several other Bible verses that come to mind that support this. Of course, putting on the armor of God in Ephesians 6:10-18. The first thing you put on is the belt of truth – the truths found only in Scripture. The last thing you put on is the sword of the spirit. It's the only "weapon" among the items of armor, the rest are just for defense. This weapon is God's word.
If Jesus relied on it, so should we. Another favorite verse from Psalms 119:105, "Your word is a lamp to my feet and a light to my path." We should rely on it to lead us as well as protect us.
The verses Jesus used against the devil are powerful. We should definitely cling to "You must worship the Lord your God and serve only him." (Deuteronomy 6:13). There are a lot of voices in the world today all trying to get our attention. We spend our time on so many trivial things that aren't helping us or each other. If we could only just walk away claiming that verse as our stronghold.
With the new year approaching (or the new day dawning….if you are reading this in the middle of the year), we should all take heed of what is important to us. What are we spending our time doing? Are we devouring Scripture like we should to make sure we are armed against evil and sin? Are we serving only our God?

Let's pray. Lord Jesus, thank you for your perfect example of how I can fight off sin and destruction. You want only the best for me. So, why is it that I so often stumble? Forgive me and my weakness. Help me be laser focused on growing closer to you, shielding myself from sinful temptations and being more in tune with your Word. Help me listen for your voice and close out the shouting from the world. May I walk in your peace and help others to do the same. In Jesus' name. Amen.