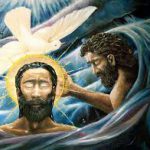 Today's reading has two parts, (1) Jesus' baptism and (2) recitation of his family tree. Both have their own power. Jesus' baptism is recorded here and in the other Gospels. Luke's account is very short and interestingly placed after we are told (in previous passage) that John the Baptist was in jail.
No matter the order of events, we are now focusing on the start of Jesus' ministry. While most people were getting baptized because of sin, Jesus did not have sin. His public appearance was simply to be used by God to reveal Jesus to the world. The Holy Spirit, in the form of a dove, announced God's love for his Son, Jesus. (Noticed the capitalized "S" in son.)
Jesus' earthly mission has begun!
Our text then shifts to the genealogy of Jesus, on his earthly side. I have always found it interesting that such good records were kept. I suppose when God is inspiring Scripture, it works nicely like that. I worked on a family tree of my own during J-term my freshman year in college. I was thankful my maternal grandmother had done a lot of the work on that side..tracing us back to the Mayflower.
You may have noticed, if you compared like I did, the genealogy in Matthew with Luke. As I understand it, Matthew's list is on Joseph's side of things, which gets us back to King David to fulfill Scripture. Luke's, however, would be from Mary's side, particularly because Luke has taken Mary's perspective from the get go. Mary's history dates back to Adam – the son of God. Notice the lower case "s".
So what do we make of today's reading? Is there a meaning we should take away?
I suppose it's good to think about how you connect to the line of Jesus, because you do. We have been baptized into his family. We are all sons and daughters of the King of Kings! That makes us princes and princesses. Yet our King wore a different kind of crown.
Take pause for a moment to give him thanks and praise. We are forgiven and free!

Let's pray. Lord, I thank you for the history you have written on my heart. I have memories from my own personal life, and thank you for the preservation of other's recollection in your Holy Word. I stand amazed yet again at your power and wisdom. You have made all things new and your story continues to be written. I am now playing my part. May my role be ever pleasing to you. May I use the gifts you have given me for good and to draw people to you.  In Jesus' name. Amen.