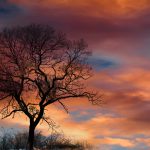 Hallelujah!  This is quite a prophecy.  Little did the people of Zephaniah's time know that Jesus would soon be there.  
Jesus delights in us. He loves us. He will calm our fears. He rejoices over us. What a feeling of love and comfort overtakes me when I think of that very thing.
Verse 17 of this final chapter of Zephaniah is probably the best known. It is quite something. "The Lord your God is with you, the Mighty Warrior who saves. He will take great delight in you; in his love he will no longer rebuke you, but will rejoice over you with singing."
Let's unpack that. After all of the wrath and destruction that has preceded this message, this is like a rainbow after a storm. God is with us! We can have no fear. He has not abandoned us,despite our sinful ways. He fights for us, and he is mighty to save! God gave us Jesus to bring that salvation to life.
Have you ever imagined God taking delight in you? Maybe you feel unworthy of his love and mercy? But he does delight in us. Much like a parent finds joy in their child, multiply that by an infinite number because it's God after all. His capacity to love is so much greater than we can even fathom. All of that love is directed at us!
He rejoices over us and is thrilled to have us as his children. Have you ever sung a lullaby to your children or grandchildren? Maybe you have your own fond memories of being sung to as a child. Imagine the God of the universe singing over you. Did you just feel the peace of God wash over you as you pictured that?
So what is the message you need to hear from God today? Are you feeling alone and comforted to know God is with you? Are you in the middle of a storm and delighted to know God is fighting for you?
Let the words of God's promise wash over you and feel his breath as he sings over you this day.

Let's pray. Lord, I give you thanks for being a warrior for me. Thank you for having my back and always being there. Forgive me for my lack of attentiveness and being distracted. I want to be more focused on you. Continue to use me as your hands and feet here to bring others closer to you. Use this devotional as you deem appropriate. In Jesus' name. Amen.