God, our divine warrior, has promised restoration. "At last your troubles will be over, and you will never again fear disaster." Like our last reading, the descriptions of what life looks like and the pictures painted by Zephaniah are beautiful and enticing!
Can you imagine what the people thought when they heard that God himself would be living among them? In the days of Moses, the people feared the presence of God. But this oracle would be fulfilled when Jesus was born, and again when Jesus promised the Holy Spirit would dwell within us. We have knowledge Zephaniah's first audience did not. We should feel richly blessed to see Jesus in this promised restoration.
Zephaniah says God's judgment has been removed. We clearly see proof of that in Jesus' nail scarred hands stretched out in love for us. The empty tomb shows us the victory over sin and death. Jesus did all that for us while we were still sinners. What a display of unconditional love!
Zephaniah's prophecy is not long, but it packs a powerful message for the people, including us. Let the words of comfort and encouragement flow over you. This "mighty savior" Zephaniah speaks of "will take delight in you with gladness." How does it make you feel to know that God delights in you?
If you're feeling overwhelmed by circumstances in this life or what you see unfolding in this world, take heart. The time of restoration is coming. We belong to the group of people waiting for Jesus' promised return. In the meantime, we can allow God to transform us and renew us.
Romans 12:2 is one of my favorite go-to verses. Reflect on this today as we wait for the promised restoration. "Don't copy the behavior and customs of this world, but let God transform you into a new person by changing the way you think. Then you will learn to know God's will for you, which is good and pleasing and perfect."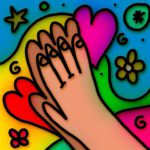 Let's pray. Lord, I look forward to that day when you return to take us home with you forever. I love seeing how magnificently your prophecies have come true and continue to speak to us. Transform me to be more like you so that the world will see you in me. Help me to stay strong and connected to you in the storms of life. In Jesus' name. Amen.