Zephaniah was a contemporary of Jeremiah and would have spoken God's words during the reign of King Josiah. You'll recall when King Josiah learned of the scrolls containing God's law, great reforms began to help the people of Judah to return to God. Zephaniah would help shake the people of Judah out of their complacency so they could understand their hope comes from God.
Zephaniah doesn't sugar coat the radical message from God but gets right to the point. God's wrath will sweep away everything and crush Jerusalem and Judah. Even his own creation will suffer. God's anger has been fueled by all the idol worship that fills the land.
When we read about God's judgment over all creation, we can't help but want to write it off as irrelevant because of what Jesus did for us. Don't do it! Prophecy such as this has wisdom for us. Zephaniah is included in Scripture for a reason. We can learn from the mistakes of those idol worshipping folk.
Look at Romans 1:18, where Paul writes, "But God shows his anger from heaven against all sinful, wicked people who suppress the truth by their wickedness." God doesn't stop being angry with us for our sinfulness. Idol worship is just one way we suppress the truth. These prophecies can also shed light on our own failure to stand for Jesus.
Beyond the idol worship, Zephaniah speaks to the people's indifference to God. The LORD said through Zephaniah, "They no longer ask for the Lord's guidance or seek my blessings." Do you think that's true for people today? I know for myself, there have been plenty of times when I've pushed through without seeking God's input. During those times, I was out of sync with God. He wasn't my priority because of busyness and other distractions.
Have you ever found yourself going through life on "auto pilot"? We go through the motions of our routines, and unless we have made God a part of that routine, he may be forgotten. Whether those are temporary lapses or more permanent, God seeks to get our attention. He wants our devotion. He wants us to seek him. He wants to bless us.
How is Zephaniah's prophecy speaking to you today? Are you feeling compelled to be more intentional about your quiet time? Be thankful God wants you to shut off the distractions to be with him. I'd much rather be safe in God's loving arms than caught up in the chaos of a world being destroyed.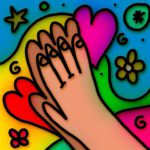 Let's pray. Forgive me, God, for those times that I forge ahead without coming to you for guidance. I want to put my trust in you alone. My heart breaks for you when I think of all the people who continue to worship their idols, showing more reverence to things than to you. Use me to reflect your love and bring the lost ones back to you. In Jesus' name. Amen.