I really like the Peter character as he's being portrayed in the television series, "The Chosen." Angel Studios has done a marvelous job of casting and creating historically possible back-stories to draw us in and touch our lives. I can relate to Peter, so as I read his closing today, I couldn't help but picture that character. Sometimes having a visual can be helpful, especially if you're a visual learner like me!
I get the feeling that Peter could go on and on about the dangers we'll face as followers of Christ. He would have had personal knowledge of what it was like. But he lived in the world immediately after Jesus' death and resurrection. There are a lot of similarities still present today. Thankfully, we can apply Peter's wisdom to what we see happening in the world around us.
Peter knew we'd need to be "on guard." I feel that pressure more and more as our society continues to fall down the slippery slope of sin. I can't turn on the news without shaking my head over some new abuse of God's desire for us. Do you feel any of that tension in your own circle of friends and family?
We've all seen action movies where the villain is trying to overtake the hero. We've seen the hero hiding out, looking for safe solutions. Do you remember the TV series, MacGyver (the original one)? I was always amazed at how he could take everyday items and make a memorable escape. Sometimes I feel like I'm scrambling for a solution to keep me from falling into the evil one's trap. The only weapon I need is God's word.
Peter had something to say about that, too. Peter mentions his fellow apostle, Paul. Peter says that people "who are ignorant and unstable have twisted his letters to mean something quite different, just as they do with other parts of Scripture." Have you ever been in a Bible study only to be blown away by someone else's "interpretation" of a passage you're discussing? Look for the plain sense meaning of Scripture. Remember it is written to be understood not to confuse us.
That's why it's so important to keep growing in grace. We've been given this undeserved gift of grace. Now it's our turn to make sense of it, accept it, and seek the Holy Spirit's guidance of how to grow in it so we can share our overflow of grace with others. The world needs grace but seems to want to repel it.
Peter also tells us to grow in the knowledge of our Lord and Savior, Jesus Christ. We do that by spending time in God's word and listening for his voice. When we read the Bible, it's best if we read its individual parts in light of the whole. The Bible tells a purposeful story, and each part is necessary for that understanding. Individual readings on their own might not make sense or may give us a different message, if we don't look at the whole picture for our understanding.
Whether you've been reading the Bible for years or just days, your understanding of Scripture will come alive when you take time to reflect on the whole picture when singling out smaller passages. Always look for how God is moving, both in Scripture and in your life.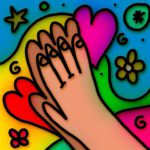 Let's pray. Lord, I thank you for Peter and how he listened to your call on his life. I want to be as bold and live my life to please you and reflect well the love and grace of Jesus you have shared with me. Help me to grow in grace and in my knowledge of you. Thank you for giving us your word so we can cling to the truth in these dark days. In Jesus' name. Amen.