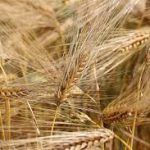 Our dear Ruth isn't one to sit back and let the dust settle on herself. She has arrived in a new land, and she is ready to experience it, to meet new people, and to work hard. We see a woman with a perky spirit and a good work ethic. She is not afraid to get her hands dirty. She seeks to please.
This text says, "as it happened" in verse 3, she came into the field of Boaz, a wealthy man of good reputation in the town who was also a relative of her father-in-law. Having lived in a small town, I was always amazed at the "hidden" family connections that would often surprise me. It is pretty typical to have many relatives in a small town. However, "as it happened," God has now orchestrated something beautiful for Ruth.
God orchestrates good things for us, too. Yet, we often miss out on seeing those provisions. When things just "happen" we often overlook the possibility that God has been at work to make the moment happen. Sometimes we even call those "coincidences." It's important that we do not take God for granted, and that we don't take credit for his work in our lives. There are so many moving parts at play in every situation. Only God could masterfully work them out into the miracles they become.
We learn more about Ruth in our encounter today. She was very humble and gracious. Her hard work had caught the attention of Boaz. He spoke to her directly, which I would imagine was not a frequent occurrence. Yet, Boaz seemed friendly and spoke a blessing to his workers. His presence in the field elicited respect in return.
Boaz's words to Ruth speak volumes here, "May the Lord, the God of Israel, under whose wings you have come to take refuge, reward you fully for what you have done." Ruth had indeed been bold when she stepped away from her family and all that was familiar to tend to her mother-in-law. Ruth wanted to be close to Naomi, keeping her company after such a great loss. Through this association, Ruth had witnessed Naomi's faith, and likely the faith of her husband, in a God she didn't know herself. Ruth was ready to learn more and put her trust in something she had never known before.
How willing would we be to walk away from all that we now know and start over? David and I have a little inkling of what that feels like, however, we still took many of our things with us to remind us of "home." Even one of our children mentioned to us during a visit that it was cool to see some "familiar" in a very new and different place. It's hard for us to totally leave all behind, but I know people do it every day.
To take refuge in God. Now there is the key. When I think of that, taking refuge in God, a huge peace fills my heart. What about you? When we take refuge, it means to find safety and security. Who better to provide refuge than God. Our lives may not be struggle free, but we need to know we can take refuge in God's loving arms. Our struggles in this life are temporary. How we choose to live through the struggle is what sets us apart.
If we can't change it, we have to stop letting "it" control us. We can't let it have the power over us. God offers us refuge, comfort, and unconditional love. We should dash into those loving arms whether we feel weak and alone or strong and mighty. Remember who gives you the strength.

Let's pray. Heavenly Father, I give you thanks for the life of Ruth. Her drive to work hard and to please should be our motivation, too. I want to have a humble heart like she had that overflows with gratefulness. You have given so much to me, may my life glorify you! I want to shine for others and help them to know you, too. Help me to be more focused so I can maximize my effectiveness for you. When a situation comes along that I cannot change, give me the strength to let it go. In Jesus' name. Amen.