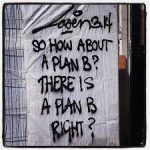 There is a lot of information in these few short verses. We have been introduced to Ruth, but her character has yet to unfold. What we do have is a backdrop to Ruth's story. The setting is before kings reigned, sometime during the time of the Judges. Ruth is a Moabite woman who married Mahlon, a man from Bethlehem. Mahlon had moved to and settled in Moab, an area about 40 miles from his home, to escape the famine in his land. Ruth's husband has now died, and she finds herself a widow.
Ruth's world has turned upside down. All of her plans have come to a screeching halt. Now what? What will she do now? Have you ever been at a crossroads like this? How did you respond?
Plan B can be a beautiful thing when we let God orchestrate it. We need to fully rely on the promise of God to never leave us. I love the promise in Deuteronomy 31:6, "Be strong and courageous. Do not be afraid or terrified because of them, for the Lord your God goes with you; he will never leave you nor forsake you."
We are going to learn a lot from Ruth and how she handles the adversity in her life. We know our lives are not meant to be straight and narrow, like a flat, monotonous highway spanning the state of Nebraska. There will be twists and turns. What's difficult is when these twists and turns come out of the blue and surprise us. How do we respond then? Do we shut down or do we push through? Do we cry out to God or do we try to play God?
Are you facing a Plan B in your life right now? Are you relying on God to see you through?

Let's pray. Father God, I thank you that you have my life securely in your hands. You have rescued me time and time again, and for that I am grateful. Continue to mold me and make me more like you. May I not dwell on the missed opportunities or plans that have failed. May I only rest in your neverending grace and mercy. Fill me today anew so I will shine brightly before others. I trust you to bring the people to me that need to hear from you. In Jesus' name. Amen.