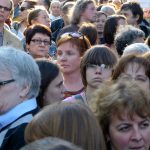 Today's reading is full of encouragement in our troubled world. We see corruption. We see the Bible being watered down or misinterpreted. We see people being led astray by all sorts of new age spirituality. How do we respond in the midst of this?
It would be easy to want to close the door and hide, never to set foot outside again lest we are caught up in the distortion. Is that what he meant when he said, "make every effort to be found living peaceful lives that are pure and blameless in his sight." I don't think it needs to be that drastic. We do need to be on guard.
We need to be careful not to twist the words of Scripture. Destruction does not sound like the kind of future promise I want to experience. So how do we know if we're "twisting" God's words? There are a few simple ways we can keep ourselves in check. (1) don't take Scripture out context; (2) do diligent study on the "hard to understand" passages; 3) let Scripture support itself.
When we take a verse out of context, it may sound nice, but it may be misleading. It is often helpful to know the time, place, author, and what was happening in the surrounding text. A very common verse often taken out of context is Jeremiah 29:11, "For I know the plans I have for you," declares the Lord, "plans to prosper you and not to harm you, plans to give you hope and a future." Sounds great, doesn't it? It's a favorite of mine. But keep in mind this was written to a people who had been in exile in Babylon because of their disobedience to God. He wasn't giving up on them. It's a beautiful verse full of promise, but sometimes we forget the origin. Perhaps we feel like we are the disobedient children who have been living apart from him. This verse gives us courage and peace as we look to our future.
There are many passages just hard to understand. When we encounter these passages, we should look to study them. I have a study Bible with notes at the bottom. David also has a ton of resources, most people wouldn't have this luxury. Knowing what online resources to trust can also be tricky. Talking with a trusted elder or pastor at church about a difficult passage could be helpful. Write down the passages that confuse you and seek the counsel of others, pray to God for clarity, and reread them until a new understanding can shine through.
We can also use Scripture to interpret other Scripture. You've probably noticed how Jesus would reference Scripture. Paul did it, too. There are other places where passages from one book are brought into a different place to affirm or complete the idea. When you can find examples where one passage is affirmed by another, that is golden.
Thankfully, God is patient with us as we figure this all out. He loves us and cares for us, even when we don't deserve it. Don't wait another minute to begin living the life God intends for you.

Let's pray. Father God, I thank you that I can come to you and share my thoughts, my struggles, my joys, and my concerns. I am amazed at how gracious you are to me and all your children for how we dump on you. I know you want to hear from me. I know you want me to question things when they don't make sense. You'll provide the answers I need, I just need to listen more carefully. Don't let me fall into the trap of disbelief, or believing truths that are not from you. Protect my heart and my mind. In Jesus' name, I pray. Amen.