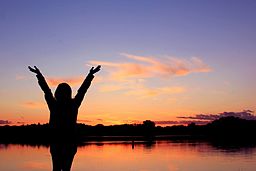 After our reading yesterday, I feel like the light switch was just turned on. Truly our mourning is turned to dancing. Psalm 30:11-12 pictures it like this. "You have turned my mourning into joyful dancing. You have taken away my clothes of mourning and clothed me with joy, that I might sing praises to you and not be silent. O Lord my God, I will give you thanks forever!" Such a beautiful compliment the praise given here for judgment and salvation.
I had highlighted verse 1 along the way, and it's good to see those "notes to self" in my Bible. I wish I had put a date on it – there was even a yellow sticker which signifies "God's Plan and Promise." I think that is a surprisingly good summation of what we have going on in this whole chapter. It was God's plan, his will, and his intention, that his people would go through their time of desolation. For those who endured, the promise of salvation and a feast in his presence would come. "O Lord, I will honor and praise your name, for you are my God."
We have watched God move among his people in the words of Scripture. It wasn't always an easy road. The people who turned their backs on God were not given an opportunity to share in this feast. Those who remained steadfast will witness God "remove the cloud of gloom, the shadow of death that hangs over the earth. He will swallow up death forever! The Sovereign Lord will wipe away all tears. He will remove forever all insults and mockery against his land and people. The Lord has spoken!" What a mighty God we serve!
Can you imagine having a seat at the feast? No more death, tears, insults, and mockery! Everything that we struggle with, that bogs us down, that frustrates and hinders, will at last be gone. Can we hold on?
God's heart for the poor and downtrodden is clearly a theme for Isaiah. But it's not just here. We know even Jesus walked through life humble, caring for the poor and needy, having a special care for the widows and orphans. "But you are a tower of refuge to the poor, O Lord, a tower of refuge to the needy in distress. You are a refuge from the storm and a shelter from the heat." What a beautiful picture of the loving, protective God we serve and adore!
How do we respond to God's love and mercy? Take some time to reflect on your response to God. Can you sense him walking with you, listening to you, quieting your fears? Are you overflowing with gratitude? We can echo the voices of those in our passage today. "This is our God! We trusted in him, and he saved us! This is the Lord, in whom we trusted. Let us rejoice in the salvation he brings!" Let us rejoice indeed! Hallelujah!

Let's pray … Lord, I am overcome with emotion at the thought of what you have done for me. Every plan you have put into place. May I be in tune with your will for my life. Help me to overcome any obstacle that might get in my way. I know that you have great things in store for me, and I recognize how the evil one is trying to get in the way. Thank you for crushing evil as you did Moab. In Jesus' name. Amen.