The Preacher is connecting some dots as he takes us on this historical tour. He portrays the Holy Place and Most Holy Place in a way we imagine quite clearly. He wants us to understand the ways of the old covenant. We are told exactly what tradition expected in terms of the priests and their duties and responsibilities. The Most Holy Place was reserved for the High Priest, but you have been given a glimpse behind the curtain!
This passage made me think of a song by the group Kutless called "Take Me In." Listen here. Lord, I want to see your face. I hunger and thirst for your righteousness. These lyrics from the song put us in the perfect place to worship God, don't you agree? Such reverence! We all long to see Jesus face to face and, in the meantime, crave his righteousness. When we can enter our time of worship with such devotion, we become open to receiving the Spirit and hearing the word of God so much better.
Because the Preacher focuses on what happened under the old covenant, we can clearly see the improvements made by the new covenant. If before only one person could come into the presence of God once a year, God must have surely been lonely. Think how much better it is to have many adoring visitors worshiping and bringing you praise.
Jesus gives us a glimpse of worshipping God when he explains it to the woman at the well. In John 4:23 Jesus says: "But the time is coming—indeed it's here now—when true worshipers will worship the Father in spirit and in truth. The Father is looking for those who will worship him that way." It sounds like Jesus was talking about the new covenant!
We are made to worship. Even the commandment to love God is a played out best when we live lives that worship God. Worship isn't just something we do on Sundays. We've come a long way since that once-a-year visit by the High Priest. God is accessible to us 24/7.
Our High Priest is Jesus! Because the new covenant has come, the location of the Most Holy Place now includes the throne of grace. That is where Jesus dwells. Take some time today to imagine the grandeur of the heavenly palace and accept the gift of grace you have been given.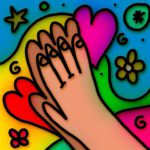 Let's pray. Lord, thank you for the freedom to be able to worship you. I want to live my life in a way that honors you in everything I say and do. That is true worship. I hunger and thirst for more of you. May my life be lived in constant worship so that others will see you reflected in me. In Jesus' name. Amen.