The Preacher is making a big deal out of the fact Jesus is our High Priest. It truly is an honor to have Jesus ministering to us from his heavenly home. Jesus' purposes on earth were many, but this is his destiny. We can be thankful Jesus "is the one who mediates for us a far better covenant with God, based on better promises."
A covenant is a special kind of promise. In the covenant made between God and Israel at Sinai, the people vowed they would be obedient to God's laws. God knew this old covenant was flawed and needed to be updated. The people had abused God's promise by turning from him and relying on other gods. Sin is chronic, and the people were stuck in a pattern of disobedience. Yet God remained faithful.
The Preacher quotes Jeremiah's prophecy in our reading. "God speaks of a "new" covenant, it means he has made the first one obsolete. It is now out of date and will soon disappear." Our merciful God was promising a new covenant all those centuries before! No more defeat or despair from falling short trying to follow the law of Moses. The people would cling to this promised hope of a new covenant for generations.
In Jesus our Messiah, we see the fulfillment of that prophecy, rescuing the people who had fallen so far from their faith and worship of the one true God. This new covenant is based on mercy and forgiveness. The whole idea of a new covenant and Jesus as High Priest had to be overwhelming for the Preacher's first audience. It's heavy stuff for us, too. Don't rush past these words because they seem deep and theological.
Jeremiah's prophecy was powerful, especially for us who know Jesus has come and already initiated this new covenant. One of the problems with the old covenant had been knowing and obeying all the laws. According to the prophecy, God promises: "I will put my laws in their minds, and I will write them on their hearts. I will be their God, and they will be my people." Those laws are in our hearts and minds! We can tap into that wisdom from God and know what will please God and what won't.
The new covenant is within us and sets us up for success. Our God is not unknown. As the prophecy reads, "For everyone, from the least to the greatest, will know me already." I think about the people of the Old Testament who feared God. They didn't dare have conversations with him like we do. They hadn't met Jesus yet to see into God's character and sense that love. Being in communication with the one who has given us this covenant is meaningful and encourages us to draw closer. We desire to please the God we know and love.
God's new covenant promise is there for all of us. "And I will forgive their wickedness, and I will never again remember their sin." I'm sure you've got some things in your past that you're not proud of. We all do. Sometimes I feel unworthy when I think of all the bad things I've done. But when I analyze it, those bad things have been distractions keeping me from God. I know in my heart that such behavior is not pleasing to God. I try and do better each day – that's all we can do. Thankfully, we are forgiven sinners!
The old covenant has been replaced. Jesus is our way and access to God. He is our example for how we should live our lives. The Preacher gives us a good reminder here that our predicament of sin, shame, and guilt are cancelled by God's new covenant of mercy and grace. How do you respond to that?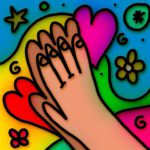 Let's pray. Lord, thank you for loving me so much that you have found me where I am, broken and needing a Savior.  I pray for others who are lost now and apart from you. Open their eyes to see you. Open their hearts to accept you. Your offer of grace and mercy is hard to resist. Use me in any way you choose. Give me the wisdom to seize the opportunity and the words to say. In Jesus' name. Amen.