What a great trip down memory lane this has been! The common denominator for all the hero stories we've been reminded of is faith. Bold faith. These people were not always popular, but putting their trust in God was what they valued more than anything. "By faith these people overthrew kingdoms, ruled with justice, and received what God had promised them." Don't ever forget to look back and take note of others who have gone before you! There is a lot of encouragement and wisdom there!
Now for a startling reality! Without God, we are weak. Thankfully, in our weakness, God steps in and gives us strength. Do you have faith enough to believe that? Think about the examples the Preacher has given us. "Their weakness was turned to strength." How did that happen? Bold faith in a God that loves to provide for his faithful children!
These heroes of faith stepped out, trusted, obeyed, and received the promises of God. God used them in mighty ways. Have these examples empowered you to be more faithful? Are you ready to be bolder in your faith?
You have something these heroes didn't have. When you accepted Jesus as your Savior, you received the fulfillment of the promise they never experienced. God promised these heroes of faith something better was to come. They waited and waited, but the promised Messiah had not yet come when these heroes left this earth. I certainly feel privileged to be at this place in God's story. Our faith can be all the bolder when we realize God's promise has been revealed.
We are now in our own waiting pattern. We are waiting for Jesus' promised return. Perhaps in our own time of anticipation we are taking a beating, as did these heroes of faith. For us, it's because of our allegiance to Jesus. It is not a popular time to be a Christian.
When we step out boldly, there is risk (just as we've seen with the heroes the Preacher used). Have you ever imagined the scenario of being backed into a corner with a weapon in your face while standing up for Jesus? Are you rock solid in your belief that Jesus is way, the truth, and the life as he says in John 14:6. Persecution is alive and well, sad to say. The descriptions in today's reading are not that far off from what's happening in our culture today.
One thing that sets believers apart from those who have no faith in God is hope. The Preacher reminds us how we can overcome our feelings of helplessness. Place your "hope in a better life after the resurrection." Testing and persecution will come. Jesus didn't promise us it would be easy.
Maybe it's smooth sailing for you – that's great! We all have those blessed mountaintop experiences times when everything is going right. We can get a little "lazy" in our faith during those times if we're not careful.
Take some time today to think through your life and how people would describe you from a faith perspective. These people might include your spouse, parents, kids, neighbors, pastor. Would any of them use the word "bold" to describe your faith?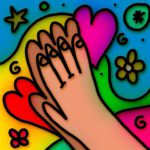 Let's pray. Lord, I pray that others will see you in me as I live my life in faithful obedience. Help me to stay on track and not get lost or misguided by the distractions of life. Fill me with the confidence and hope in you that will make my faith bolder each day. May I be an example of bold faith for someone today. In Jesus' name. Amen.