Have you ever trained for a marathon? Me either. But I have attended one, cheering for our daughter years ago. The energy was quite something as we watched the runners jog past, some looking like they could run forever. Some, I fear, may never have finished the race! In either case, the determination was tangible. It was an awesome moment for me because I have never fancied myself as a runner and yet in that moment it seemed like something everyone should do.
We do get to run our own race after all. Our journey through life is often thought of as a race. When moving to Mexico, I escaped the "rat" race of life. We were just commenting yesterday about the pleasant pace of life here. We're embracing this season of life that allows us spending quality time with God. Just like I always yearned to do!
These verses are so key in reminding us we are never alone on our journey or "race" through life. It takes a village of supporters to make life more complete. Picture this, "we are surrounded by such a huge crowd of witnesses to the life of faith, let us strip off every weight that slows us down, especially the sin that so easily trips us up." Remember all those heroes of faith we've just read about. Can you imagine them cheering you on at this very moment?
We also have people in our present day village (friends, family, church community) who are setting real-time examples of encouragement for us. Who come to mind as some of your "faithful ones?" The more cheerleaders of faith we have in our village, the better. Keeping the fire of the Holy Spirit ignited inside us is easier in a community of believers.
The race of life will not be easy. We need to figure out how to endure. "We do this by keeping our eyes on Jesus, the champion who initiates and perfects our faith." The world offers us so many mixed messages and distractions to get us off track. We can lose our way when we lose focus on who and what is important. We all need Jesus! While God has given us a life to live and enjoy, he also wants us to put him first. The Bible makes that very clear.
Read these four verses again for some added hope and encouragement today. If you're feeling like you're nearing the end of your rope, think of what Jesus did for you.  The Preacher tells us, "Think of all the hostility he endured from sinful people; then you won't become weary and give up." That may be a startling statement, but be lifted up by doing just what it says!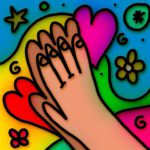 Let's pray. Lord, thank you for the village you've surrounded me with in addition to the great cloud of witnesses that I can imagine are cheering me on. Help me to stand against the sin that so easily tries to manipulate and separate me from your presence. Use me to give an encouraging word where it's needed today. In Jesus' name. Amen.