I like the meme that lists all the sins I haven't committed yet today, adding "now it's time to get out of bed!" We sin all the time. And, we're probably even oblivious to much of our sinfulness, but God sees. Today's text convicts us to be mindful of our sinning, especially if we're continuing to sin in the same way over and over. It doesn't matter the reason or purpose we've created to minimize the guilt, we are to avoid deliberate sin. Period!
These would be the sins we do on purpose or do even though we know they are sinful. When is the last time you did a deep dive into your own faith life and uncovered some sins that might have soon become "deliberate"? Maybe you'll find some deep dark sin tucked away, but you're unable to give it up. Examples that come to mind are addicts and atheists. Whether you're doing things that distract you from God or you're not living to honor God, you are sinning.
Think about sins. Your sins. I know we don't spend a lot of time focusing on ourselves, hoping that if we aren't honest with ourselves nobody else will see our flaws. Not sure about our logic there, but it is good to self-reflect often. Even while driving a car, you find yourself "correcting" the wheel a time or two on your journey! As soon as we are aware, we need to do better.
Why do we try to please God and avoid sinning? I suppose fear of the Lord comes into play. The idea of God's judgment or the raging fire that consumes his enemies is a bit unnerving. But the Preacher is warning the people who are trampling on God, showing no respect for his authority. Those that insult the mere idea of holiness should beware.
We, certainly, are not part of that group, are we? We know and respect God. That's part of what fearing him is all about. To be in awe of what God has done, is doing, and will do, is a good place to start to get your spirit wowed!
God, in all his wisdom, sent the Holy Spirit, who brings God's mercy. This is a promise with the backdrop of God's judgment. Talk of revenge and judgment could elicit "fear" to be sure that you were God's child, not his target.
The Preacher makes clear that when we sin intentionally, it would be "a terrible thing to fall into the hands of the living God." And while the "fear of God" can make us do certain things, God desires our worship. When we overflow with awe toward God, all we can do to let it out is worship.
Worship isn't just Sunday mornings. That, coming from a long-time worship leader (me), says a lot! I've preached that for a long time – to worship with our lives so that people can see Jesus in you. They may not know that's "who" they see, but you can introduce them!
We've read some tough theological texts as part of the Preacher's "sermon." Focus your heart today on the awe (fear) you have of what God has done. Draw on all the stories you can think of from the Bible where God used his people. When your heart starts to overflow, offer God your worship.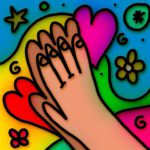 Let's pray. Lord, I thank you for your great love for me. Forgive me in those times when I miss the mark and fall into the trap of sin. I know you are there to pull me out and redeem me. It is my heart's desire to never disappoint you. May everything I say and do reflect you and your love for me and others. Open the minds and hearts of those who are far from you to be ready for your message. In Jesus' name. Amen.