We're given another exact date in our text, and it's roughly three weeks after the one in our last reading. Even if it took a little time, I liked how the leaders paid attention to Haggai and didn't ignore the message from God. I imagine they were delighted to hear God had not abandoned them. Even better, they had received clear instructions. After their time of deliberating, they got to work.
What do you think it was about that message in our last reading that really stirred them? Maybe it was those clear instructions! I always like when I get confirmation from God that I'm doing what I'm supposed to be doing. Just as precious, when I get off course, I always appreciate the correction—but perhaps not right away.
"So the Lord sparked the enthusiasm" in his people. I like that. I wish there was a little more enthusiasm to follow God's will in our culture today. It seems many try to follow their own way, satisfying their own needs and desires more than wanting to please God. It sounds like the people hearing Haggai's message from God were wanting to please God, they just didn't know how. And then they listened to God.
Maybe you're like I used to be, wanting to know "how" to listen for God's voice. I'm still perfecting my listening skills, but here are some things that helped me. After all, you don't want to miss a message from God!
First, shut out the noise or distractions around you. While I'm sure God can speak to you with music blaring or kids screaming, it's a lot easier to hear him when you're intentional about your surroundings. You are opening yourself up to be ready to hear.
Then, pick up your Bible and read. Take a moment to just sit with what you've just read and see what sort of impression comes to you. Ask God to reveal to you what he'd like you take from that passage. Be open to the Holy Spirit's leading. Maybe you'll need to read the passage several times. Remember this is your precious time with God.
To discern the voice of God, we should always test what we hear. Haggai's contemporaries could have been simply testing God's message to them. That would explain the three-week delay. By testing the message we receive, we make sure that what we heard is actually from God.
How do you know if what you're hearing is just your own thoughts? God's messages will always be supported by his character, as we know him from reading Scripture. We can also ask, "is that you, God?" When you share the message with a trusted believer, ask them to help you discern. Do you have someone you can turn to for guidance in faith matters?
God is speaking to us. We may just need to practice listening. Certainly, a good place to start listening is when you read Scripture. When you start to sense a rhythm of communication with the Holy Spirit, you'll know you can maybe ask for some other revelation.
The key to it all is to be still and wait for God. Now you know why I felt it so important to name my blog "Be Still" (https://be-still.org/). Make time each to listen to God.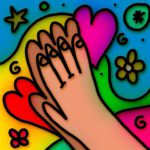 Let's pray. LORD, it's so amazing that I can spend time with you each day getting to know you and spend time in your word. Help me do a better job at shutting out the noise of the world around me, letting go of the burdens that weigh me down, and basking in your presence. In Jesus' name. Amen.