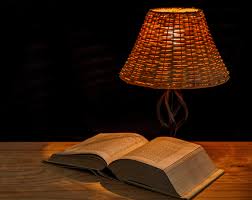 The truth about Jesus is the best mystery of all. When you think of God visiting earth as a human, that's quite an amazing feat. Of course, for God all things are possible, but we still puzzle about how it all happened and why. Believing in this truth is the basis for our faith. I love this part of the prose style "hymn" portion. "Christ was revealed in a human body and vindicated by the Spirit." God was also human in that moment as Jesus in the flesh, and the Holy Spirit proved it so. The trinity is so magnificently intertwined here.
Our last two readings have focused on how leaders and deacons were to conduct themselves in building up the body of Christ. These verses tie it all together and involve everyone. Paul wanted Timothy to be prepared to lead all people and help them discern the truth while staying faithful.
Now Paul addresses the immense issue of false teachers. They were prevalent in Paul's day, and we can see them popping up all over the place today. How do you envision false teachers? Unfortunately, they are going to look like normal, everyday people. We're seeing them infiltrating our education system, governments, and certainly our churches. Sometimes they are even unaware they are being misused by the evil one.
Has your own faith been tested by this type of influence? Has your faith wavered, or have you stayed strong? Our society's apparent lack of a moral compass is frightening. The evil one will take advantage of any opening to do his work of getting us off track with disillusionment, fear, and worry.
We also know the devil is familiar with Scripture. Remember those forty days when Jesus was tempted by the devil in the wilderness? Satan used God's word to try and manipulate Jesus into following him. If Satan is that bold to attempt to fool the Son of God, imagine what he'll do to us.  
The trap is poised especially for those who have never placed their faith or trust in Jesus. They don't have any basis of truth by which to discern the lies. Some might call them "easy prey." That's why Jesus' call for us is to tell people about him.
Sit with Jesus' words to you from Matthew 28:19-20. "Therefore, go and make disciples of all the nations, baptizing them in the name of the Father and the Son and the Holy Spirit. Teach these new disciples to obey all the commands I have given you. And be sure of this: I am with you always, even to the end of the age." That is no mystery. That is our calling to share the mystery of Jesus. We are not alone. Hallelujah!

Let's pray.  Lord, I seek to have Jesus as the center of my life.  May I cling to your truth and your promise to be with me forever.  Help me to see right from wrong and not be swayed by the evil one's tactics.  Protect those I love from the same dangers that surround us.  In Jesus' name.  Amen.