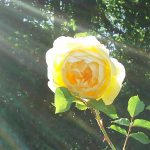 It has been clear as we've been reading 1 Peter that the life of a Christian will not be problem free. We can expect to take a hit because of our faith. It comes with the territory. However, for that suffering, we should be glad. God sees and watches how we handle it. Do we run and hide, or do we persevere feeling the joy of salvation despite our situation?
We may not all experience persecution for our beliefs. In fact, you may be wondering what all of this is all about. We know that even Jesus was questioned by teachers of the law. So, how can we be immune?
For one thing, we may not be aware of those plotting behind our backs. Having been in ministry for many years, even churchgoers are often filled with unclean thoughts and rile up opposition and division within the body. We've seen it time and time again. We try not to take it personally and remember the example Jesus gave us. But that is often easier said than done.
Our text goes on to remind us to praise God for the privilege of being called by his name. Indeed. Our response as children of God and followers of Christ should be praise! No matter the storm, we must praise. What do you do to keep praise on your lips when you are facing a crisis? If you are being persecuted for your faith or misunderstood because of your beliefs, how do you keep singing?
Listen to this song, How Do I Keep From Singing and let yourself get lost in the lyrics.
Spend extra time today being quiet before God. Still your heart and let the joy and praise seep in.

Let's pray. Father God, thank you for walking with me and seeing me through each day. I know troubles will come, but I feel strong with you by my side. Give me the strength to cling to you, the rock of my salvation. Thank you for the promise that you will never fail me. No matter how dark and drear, you are the light shining in the darkness. May I reflect that glorious light for all to see. May praise be on my lips every moment for I am yours. I am a daughter of the King. In Jesus' name. Amen.
It only takes a second - Please follow and like us: