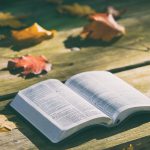 I always thought the term "elder" meant an old person in church leadership. However, I grew up in a tradition that rarely used the term "elder" at all. Now that I am serving as an elder in our current church, I have to say I don't feel old! It's clear being an elder doesn't necessarily refer to the age of a person, but rather their maturity of faith. You don't normally see new Christians as elders.
An elder brings wisdom to the community. As members of the body of Christ, we each have our experiences to draw upon. We share these experiences along with our gifts as a benefit to the whole church body. Our passage today sets out the expectations for elders leading the church community. 
As elders, we need to "care for the flock that God has entrusted" to us. We need to "watch over it willingly, not grudgingly." We must avoid lording over the church but lead by our "own good example." Sounds simple enough. Having been in church leadership and on staff at a church in the past, I know how difficult it can be, even for people strong in their faith, to lead a flock of people (or should I say sheep).
Calling our church community a "flock" is a very nice way of saying we have to love on stubborn people who aren't that bright. That may sound harsh, but it seems like you get a group of people together as a "church" and something happens to them. So being warned here to watch over the flock without holding a grudge or feeling like it's a burden can be wise counsel. Love others, no matter what.
But we must also be ready to look in the mirror. Who are we to the flock we are leading? Are we loving? Do we lead by our good example? Would you want to follow you? Would you want to lead you? Living a life of integrity comes in to play here, and it's more than just how we behave on a Sunday morning or when we're in view of the church community. We, as elders, must always be true to our faith and belief. We are bound to stumble, yes, but we need to be ready to get up, brush off the sinful nature and get back on track.
The reward from God should not be our motivating factor. It should be the lives we are changing because of our leadership. Look around at the leaders in your community. Are they following the counsel of this passage? If you are also an elder in your community of faith, how are you doing in this regard?
Take time today to pray for the elders of your church. Decisions are being made, plans are underway, and Spiritual guidance is required to keep the flock and the leaders strong in the faith.

Let's pray. Lord, I thank you for the opportunity to serve as an elder in our congregation. It is an honor and a privilege to lead a community of believers who seem strong already. Yet, I know there are stories of sadness, struggle, and pain all around. Help me to be a better leader, ready to lend a hand or shoulder when the opportunity presents itself. Help me see with your eyes and hear with your ears. Speak into me your vision for how I can make a difference. I pray the same for others in church leadership. In Jesus' name. Amen.
It only takes a second - Please follow and like us: