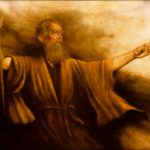 The job of a prophet is very difficult. When the message from the Lord is doom and gloom, a prophet is not a very popular person. It is easy for his/her audience to want to turn away. Who wants to hear they are going to be destroyed?
These words have been fulfilled, at least once. Beyond that, they are words of caution for us. The great fulfillment is yet to be, that which we are all waiting for, the return of Christ.   God's words, spoken through the prophet, are to be taken seriously. While it is uncomfortable to imagine the day of the Lord's coming to be "terrible", it will be for those who are lost and not in Christ.  
Did you notice how the end of today's reading gives hope? The prophet was also able to assure the people by giving them a way out. The Lord WILL protect those who are following him. Therefore, we have a choice. God declares we must "gather together"and "seek the Lord." We need to follow and obey. And, we need to do it now. 
The destruction will come, and the terribleness of it should cause everyone to turn from their evil ways. Herein lies the problem. Our society chooses not to listen, just as the people who originally heard these words. Today, people turn away and go about their merry way thinking they are immune, that they will not have to answer to their actions.
So what does humility look like in your life? Have you humbled yourself before God? The Message paraphrase says, to shape up, "You're a nation without a clue about what it wants." What do we want? Do we want destruction or safety?
We know what to do to "perhaps" be safe from God's wrath. I found that interesting. I looked in a couple other translations, and they all used the "perhaps" language. The chance of being rescued from destruction is much greater for those of us who obey and follow God, gather and pray together.

Let's pray. Father God, I thank you for your saving grace. I want my life to be one of obedience and trust. Help me to be a shining light to help others see you and and want to know you. In this fallen world, there is already so much evil, hatred, and destruction. Help us all to know that you are the answer and that you provide the shelter from any storm. In Jesus' name. Amen.