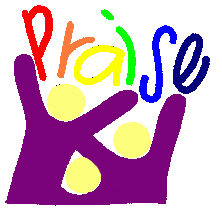 Take a breath! If you've been "burning the candle on both ends," you are ready to take a break. Amid our chaos, we can always turn to Jesus. We can always seek refreshment in the praise and worship of our king. Join with the psalmist in proclaiming, "Your unfailing love will last forever. Your faithfulness is as enduring as the heavens."
There is a beautiful Advent message here for us as well. We are reminded of God's promise to have a king reign forever from the line of David. Jesus is that fulfillment. He will reign supreme from above and in our hearts. We are so privileged to have that opportunity. Why do so many people ignore or avoid such a beautiful gift?
This psalm is packed with praise. It's almost impossible to feel sadness or pain when our hearts are focusing on God's faithfulness and what he has done for us. We're not alone in this praise. We read, "All heaven will praise your great wonders, Lord; myriads of angels will praise you for your faithfulness." I can't help but picture what was happening in heaven on that very first Christmas when God shed his holiness and laid in a manger of straw.
Many are struggling right now. Whether it be sickness, financial woes, or being stranded in a storm or otherwise missing loved ones, the choice is ours. How will we respond to our circumstance? This psalm would suggest we focus on the mightiness and mercy of God. We are never abandoned by God. We may choose to look to the world for answers, but God is standing by to be our solution.
John 14:6 should be a verse we commit to memory for those times when we feel weak. "Jesus told him, "I am the way, the truth, and the life. No one can come to the Father except through me." We can rely on Jesus. He came into the world so that we would know the Father and have access to him. We are never truly alone.
While our lives may be hectic and seem out of control sometimes, remember who holds us. Isaiah 41:10 is another gem to hold close in your heart. "Don't be afraid, for I am with you. Don't be discouraged, for I am your God. I will strengthen you and help you. I will hold you up with my victorious right hand." Such a beautiful promise from God!
How is your heart of praise? Don't forget to give God your praise and attention today. Simply reread this psalm and let your heart speak its desire.

Let's pray … Father God, your ways are great and worthy of praise. Forgive me for being distracted by the hustle and bustle of life. Knowing that you are with me, holding me up, gives me such peace and security. May I feel your presence in a fresh way today. In Jesus' name. Amen.