What surprised you in today's reading? Perhaps it was that a respected member of the high council wanted Jesus' body. What moved Joseph to take this risk? Mark's gospel speaks of the linen, the location, and those witnessing Jesus' resting place.
As a child, I remember reciting the "Apostle's Creed," and we proclaimed every week that Jesus was buried. It happened that way. But Jesus' was not a normal burial. This was the entombment of God's only son.
It took courage for Joseph to do what he did. A man in his position could face consequences for making this request and taking responsibility for Jesus' body like he did. But as Mark relates, Joseph was "waiting for the Kingdom of God to come." Clearly, Joseph knew that Jesus played a role in that kingdom.
Pilate's reaction is also noteworthy. He seemed surprised Jesus died so quickly. Apparently, when people were crucified as Jesus was, they often remained alive for multiple days. This was the second time Pilate was amazed by Jesus. You'll recall how stunned he was by how Jesus remained quiet during his time of questioning. What do you think was going on in Pilate's mind concerning Jesus?
When we bury our loved ones, it is usually the closure we need to move on. We recognize the grave as the end of life's journey. Even though Jesus had told his followers there would be more to come, they were probably blinded by their sorrow, grief, and even guilt.
If you're familiar with Jesus' story, you know his burial is not the end. For now, sit with this text and imagine the deep sorrow those closest to Jesus were feeling. We don't hear about the disciples here, but their emotions had to be all over the place. Even the disciples of John the Baptist buried their leader (see Mark 6:29). Thankfully, God used Joseph to provide the place of rest.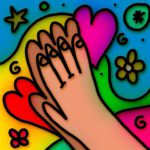 Let's pray. Lord, I am feeling the sorrow and remorse that Jesus' first followers must have been experiencing. It would be hard to fathom what life would be like without Jesus in it. How would they ever go on? Thank you for what you did for me. I know you are always with me, even if I cannot see you. Help me to draw closer to you and become the person you have created me to be. In Jesus' name. Amen.