Sit with this text for a while today. Jesus has died. While we weren't there, there were plenty of bystanders and Roman soldiers looking on. What did they see?
Our last reading gave us the time stamp of 9:00 a.m. for when Jesus was nailed to the cross. Three hours pass full of mocking and taunts. Then darkness falls for three more hours. That just doesn't happen every day! "In that day," says the Sovereign Lord, 'I will make the sun go down at noon and darken the earth while it is still day.'" (Amos 8:9)
Jesus' agonized every single moment. What was he thinking? One of his disciples had betrayed him, another had denied knowing him, and the others had fled. Imagine what the people were thinking as they stood there? Just days ago Jesus was being applauded as he entered Jerusalem and now those people were demanding his death. What is going through your mind as you recall once again what Jesus endured for you?
Psalm 22 remains a beautiful counterpart to Jesus' anguish of aloneness at being forsaken by his followers, yet the victory is coming. His final cry is not one of desperation but one of victory. The psalmist writes, "All who seek the LORD will praise him. Their hearts will rejoice with everlasting joy. The whole earth will acknowledge the Lord and return to him." There is hope.
Did you marvel at how the Roman officer recognized Jesus as the Son of God? That was definitely a "God moment" and a high point in Mark's gospel. Romans didn't understand the God of the Jews. They had their own gods. This man was a Gentile, yet God revealed himself, his true self, to this Roman. There is certainly a great message for us here.
For me, I love the reference to the curtain being torn in two. Mark doesn't tell us whether it's the curtain that hangs at the entrance of the temple, or the one that separates the holy of holies from the holy place where only priests can go once a year. Either way, it signifies for me that God is available to all of us. He has made himself known. We can approach him and present our own offerings, joys, and concerns.
Jesus did all of this out of his love for us. John 3:16 says, "For this is how God loved the world: He gave his one and only Son, so that everyone who believes in him will not perish but have eternal life." Jesus died for you.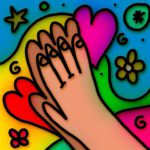 Let's pray. Thank you, Lord, for the cross. I know that is only the beginning of your miracle of love. Help me to never forget. You took my sins with you that day to the cross. How can I ever express the gratitude I feel? It's hard to wrap my head around such love. Thank you. I love you so much. In Jesus' name. Amen.