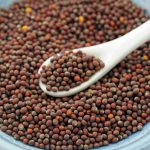 The Kingdom of God. Have you ever truly fathomed what this is? Is it heaven? Is it where God reigns? Jesus wants to make it clear to us, but do these parables help? Let's unpack them a little.
First, we have the mustard seed. If you have never seen a mustard seed, it is tiny. Yet, one seed can produce a tree 30 feet tall. Jesus came quietly into the world, not as people were expecting for their Messiah. His following started small, and according to Pew Research, in 2015, Christians made up 31.2% of the world population or 2.3 billion people. To me, by this example, the Kingdom of God would then be understood as those following Jesus.
Looking at the yeast or leaven example, what can we learn? If you've ever baked bread, you know that a tiny bit of yeast added to dough will help that same dough grow to 2 to 3 times the size. So again, the kingdom of God is growing, dependent on the spark (yeast), desire to follow Jesus, to ignite our hearts and draw us closer to Jesus. Then, from this example it seems the kingdom of God is within us, growing and multiplying as we draw closer to God and help others to do the same.
God's kingdom shall have no end and will continue to grow from the inside out and from the outside in. If we follow Jesus and trust him with our lives, we are promised eternal life. Spending eternity in God's presence is a wonderful thing.
Jesus warns us the narrow door to God's kingdom might soon close. There is an urgency here to not wait too long. We don't want to appear after the door closes. What would we say then? We already know there is nothing we can do to gain God's favor for salvation. Jesus paid that price for us already. Out of our gratitude and thanksgiving, we want to please God with our words and deeds. It should just be automatic for us. We want our lives to reflect his goodness.
I read a sermon on the leaven not too long ago, and in closing I'd like to thank Robert Webb for these words:
The only way for the leaven of the Gospel to reach and influence the whole world is for every Christian to make sure they have within themselves the qualities of leaven that Jesus requires.
1. Leaven works inwardly-God works from the inside out.
2. Leaven must make contact. It influences and is not influenced.
3. Leaven works persistently.
4. Leaven must change the substance that it comes in contact with.
5. Leaven works by contagion until the whole is leavened.

Let's pray. Father God I thank you that you are working inside my heart. It feels good to know that your goodness is deep inside me directing me. May I be mindful of your leading so that one day the whole world, or at least the part I have contact with, can be "leavened". Your kingdom should be a place we all dream of staying forever. Help me to see with your eyes those that need to grow closer to you. Use these words to touch and encourage. Thank you for the words you have given me and your promise of eternity. In Jesus' name. Amen.