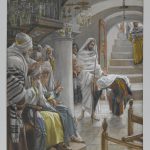 Jesus is always surprising us and acting "outside the box" of what was expected of a religious leader at that time. But Jesus was more than a religious leader, he was "Lord." The religious leaders of the time were so caught up in tradition and rules made around the commands of God, they forgot how to be human.
It is so fitting that Jesus would heal on a Sabbath. There are some things that should have no restrictions. Healing would be one of those exceptions. Jesus felt compassion on a woman who had been severely crippled for 18 years. 18 years!! I've been married to the love of my life for 18 years, as I write this devotion, and while these have been 18 of the best years of my life, it's a long time! 
Have you ever wondered why this healing was considered to be "work?" I suppose because healing was usually something done by a doctor as a profession, and a profession would be considered work. God is the often referred to as the "Great Physician" because he can heal when modern medicine cannot. God can heal any day of the week.
Do you think Jesus intended to "shame" the religious leader here? Shame is something we bring on ourselves when we realize we were wrong, mistaken, misled or otherwise corrected. Jesus simply wanted to make a point, and to do so he had to dig in a little to their pain. In this situation, he wanted them to realize what was more important, healing a woman from nearly two decades of bondage or unhitching their animals so they could get a quick drink. Shame. Yes.
So what does this say for us today? We've had passages on Sabbath before. We need to keep our focus on the big picture and not be so structured, stuck in the details. First and foremost, we need to look at the needs around us and have compassion like Jesus would. If we have an agenda of things to get done in a day and a situation arises that needs our attention, our compassion, a touch from God, we need to listen to God's request and set aside our own plans. That can be hard.
Assignments from God are the best kind of assignments. If you haven't had one for a while, ask him. If you're not sure what you'd do if he gave you an assignment, ask him. If you're in the middle of an assignment and feeling overwhelmed or wondering if you've completed it to his satisfaction, ask him. We need to stay in communication with God at all times so that we know we are living in his will, answering his call on our lives, and helping others to do the same.

Let's pray. Father God, I thank you for your control of all things. I thank you for the life you have given me. Help me to be more open and flexible to take on your assignments. Thank you for your guidance each step of the way. Help me to see a situation with your eyes, and I thank you for the compassionate heart you have given me to execute. I cherish the moments we spend quietly together. Having an intentional Sabbath with you has been so wonderfully refreshing. Again, your wisdom shines through because you know I needed that. Everyone needs that time with you, Lord. Use me to spread your message. In Jesus' name. Amen.