Our story continues, and we hear about what happened to Jonah after going overboard during the ferocious storm. Jonah does this in the form of a prayer. And he prays this from the belly of a fish! From the sounds of it, God's rescue of Jonah was "just in time" using the fish to catch him and bring Jonah to safety.
Jonah prayed, and God heard him. "I cried out to the LORD in my great trouble, and he answered me." It didn't matter that Jonah had turned his back on God and avoided doing what God had asked him to do. Jonah wisely realized that his only hope was in the very God he was running from. God was also faithful and did not let the rebellious Jonah die.
This is an important reminder for us to pray in the midst of our own storms of life. Too many people want to blame God or deny his existence the very moment they need God the most. Having God by our side helps us endure each and every calamity we may face. Building that relationship with God assures us he is there. We can have confidence for we know God's character and love for us.
We see God using a fish to rescue Jonah. Whether or not you believe this story actually happened or whether it is simply a fable, there is a great lesson here. God will use anything or anyone to bring about his purpose. This element of the story tells us that God's control has no boundaries. How can we not trust such a powerful and faithful God?
Jonah describes to God in his prayer how it felt to be tumbling toward death. He was pouring his heart out to God. Jonah must have known the fish was a rescue mission sent by God. "But you, O Lord my God, snatched me from the jaws of death!" God certainly got Jonah's attention.
From the sounds of his prayer, Jonah was still feeling the adrenaline rush and realization that he nearly died. Yet in his weakness Jonah made a startling realization. "Those who worship false gods turn their backs on all God's mercies." That's so true! Think of all the people in the world who have never experienced God's mercy in some way. It's tragic. It seems that number will keep growing as people keep relying on their own strength, power, and/or freedom to act as they choose.
We all have troubles raging, distracting us from our purpose. Can you do a better job of being like Jonah here by spilling out your frustrations and fears to God in prayer? Don't be afraid to tell him how you feel. Ask him your questions. Don't overcomplicate what is meant to be so easy. Love God and spend time with him!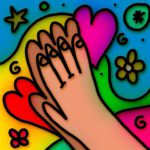 Let's pray. Lord, thank you for how you listen to me, protect me, and answer my prayers. You are so amazing and all knowing, yet you want to be in relationship with me. Help me shut out the distractions that keep me from time in your presence. Give me the energy and wisdom to be productive today. Use me to  bring hope or truth back into people's lives. In Jesus' name. Amen.