The Book of Jonah may be considered one of the 12 minor prophets. Surprisingly, we'll see that Jonah himself never gives an oracle from God like other prophets. Why, then, is it a prophetic book? Because the story or parable that we encounter does have a very important message for us, just as if God himself had spoken the words through Jonah. Reference is made to Jonah in 2 Kings 14:25, as well, identifying him as a prophet.
The story Jonah tells may also be familiar to you from Sunday School classes or Vacation Bible School skits. I'll never forget using tuna to create the illusion of being inside a big fish! As you read through this short book this time, set aside what may be familiar and look deeper at God's message for you.
As we read through this short book, it will be important to understand that the places, while real, aren't necessarily what is important. Like any good parable, it is the message and looking for God's intention that are important. Think of the Good Samaritan story from Luke 10. We are given historical details, but those don't matter. We shouldn't let those distract us here in Jonah either.
When we meet Jonah, son of Amittai, he had just received a word from God. What was his response? He chose to run the other way to avoid having to announce judgment on the city of Nineveh as God had told him.
It's important to remember that sin was running rampant in the society, much like it is today. Nineveh was the capital, and therefore an important city in the Assyrian empire. Jonah could have been apprehensive about making waves there. Was that reason to ignore God and run the other way?
Have you ever run from God? Perhaps he asked you do something you didn't want to do. We may feel like we are not ready for the mission God is calling us to. Just look at many of the heroes of faith in the words of Scripture, and you'll see we are not alone in those fears of feeling inadequate or unprepared. We, and Jonah, are in good company.
Can you think of some excuses you've used to keep you from spending time with God and knowing his mission for you? We can say we're too busy. Do you wonder what Jonah's excuse was? Why did he run from God?
The funny thing to me is that Jonah thought he could run from God. Did he think that perhaps he'd be invisible and forgotten if he hid in the hold of the ship? Our reading today clearly shows us that God means business, and he knew exactly where Jonah was! This ferocious storm was God's handiwork to get Jonah's attention, which it finally did.
Even out of Jonah's disobedience, others benefited. God revealed his power in a mighty way to a crew of sailors who previously did not bow to the LORD. But after witnessing God's hand at work, they knew that the LORD was worthy of honor and service. I loved how God's power speaks for itself like that.
Take some time today to reflect on a time when you hid from God. Perhaps you're hiding something now, hoping that he won't see. God will get your attention one way or another. Jonah's story assures us of that. Trust God to equip you if you don't feel up to your mission.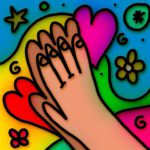 Let's pray. Lord, forgive me for those times when I tell myself I am not good enough to do your will. Give me the courage to open my mouth and share about your love and mercy without fear of looking unprepared. I trust you to equip me in the exact way I need to do what you want me to do. Thank you for the Holy Spirit's power that I can tap into at any time. You are my rock and my salvation. In Jesus' name. Amen.