God is our refuge. Joel doesn't use a lot of metaphors to describe God. We've have seen him portrayed as the leader of an army, a judge, and a roaring lion! But my favorite of all is found in verse 16, "But the Lord will be a refuge for his people, a strong fortress for the people of Israel."
Martin Luther's hymn, "A Mighty Fortress" has some fitting words for the idea of God as our refuge and strong fortress. Growing up Lutheran, this is a song I sang over and over but am only now seeing the exquisite beauty in these words.
This reading from Joel takes us on a journey from seeing a terrifying reality predicted to receiving the calming promise of safety. We're also given a glimpse at God's future plans for Jerusalem. I say future because present-day Jerusalem certainly does not fit the description!
The idea that God wants to live with us, his people, is almost hard to fathom. Yet, he proclaims this desire, as if it's a fact, through the prophet Joel. "I, the Lord, will make my home in Jerusalem with my people." For God to live with us, wherever that might be, makes a lot of sense because he's our refuge.
The image of God as our place of refuge is found all over the Bible, especially in the Psalms. "God is our refuge and strength, always ready to help in times of trouble." (Psalm 46:1) When we think of a strong fortress, Proverbs 18:10 rings in my head, "The name of the LORD is a strong fortress; the godly run to him and are safe." These are both good verses to memorize and have on hand as good remembrances of where to turn when you feel lost.
Do you have that special "safe" place that you can go when you need time to yourself? Perhaps it's impossible for you to find a quiet, secluded nook where you can close out the world and curl up to read God's word. Even in our chaos, we can still call on Jesus to protect us from harm. We can close our eyes and be whisked away to a peaceful retreat.
We all go through hard times in our lives when the evil one is in attack mode. It's in those times I marvel that what I'm up to must really be bothering Satan for him to be putting so many roadblocks in my way. Can you relate? Maybe you've never thought about it like that before.
For me, it lessens the power my struggles have on me when I call out the evil one and expose his lies. We need to call on the name of the LORD when we are feeling weak, unsure, under pressure, or even attacked. We see here the blessing promised to God's people and the destruction promised to our foes. God has our backs.
Joel speaks of a time when God's people will be pardoned of their crimes. Jesus came to die for us to secure that forgiveness. How does it make you feel to know that Jesus paid the price for your sinfulness with his life? Joel's first audience would not have known about Jesus' saving power. Jesus' victory over death was just the first of the many blessings he promises for us followers.
Knowing that I can turn to Jesus 24/7 with anything, big or small, is refuge for my soul. The comfort in knowing I have a Savior who loves me sustains me. What is your response to God for being your refuge and strength?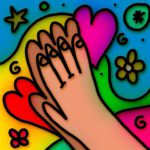 Let's pray … Lord, you have thought of everything. You knew I would be weak and need you to guide my path. Thank you for the promises you make to protect me and be my refuge from the storms of life. From the shelter of your mighty fortress, we can face any challenge together. In Jesus' name. Amen.