If you got hauled off into exile, you'd certainly be hoping for them to spare your life. By the time this group of 74 people consisting of dignitaries, priests, and even poor folk were collected and taken to the king, many others were already hostage in Babylon. Would these people have knowledge of where they were headed from hearing word from those exiled or was it a total unknown?
No matter what these people knew or didn't know, they endured emotional upheaval which led to the resolution of death. These prisoners would not be captive for long. Certainly they had seen death all around them when others had been taken or attacked. Now it was their turn. This was not a pleasant time to be in Jerusalem.
Maybe they even felt a bit of relief. No matter what the outcome of being taken, at least the decision had been made for them. They didn't have to think about whether to flee or fight, they simply went.
What that "exile life" looked like is discussed in other books of the Bible (see Daniel, for example). The seventy-four prisoners in this passage would not get to witness any moment of that way of life. There would be no prison sentence for them.
History buffs know that King Nebuchadnezzar successfully conquered Judah, including Jerusalem. He is known for his military prowess because of that. I have to remind myself of his character because I know that his fame is due only to God's intervention. The king was being used by the one true God who orchestrated the downfall and destruction of his own people.
Isn't it helpful to understand the depth of this, our own history of faith? The fall of Jerusalem, and specifically the exile and senseless murders, are all part of a story we share as brothers and sisters of Christ. This is a story that points to Christ himself. So, while it's hard to read such gory passages, we need to remember that there are no perfect people. God can use us all.
I don't want to be like the prisoners in our story today who were being taken blindly to their death. I want to accept the freedom Christ offers. I want to devote my life to his service. What about you? Are you ready to break the chains of your own pain, addiction, worry, stress, or feeling of loneliness? It's time to look to Jesus. Galatians 5:1a says, "So Christ has truly set us free." Claim it!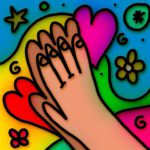 Let's pray. Lord, again I am so grateful that by your grace I am set free. I trust you to never leave me, even in times of trouble. I want to serve you and bring honor to your name. Lead the way, and I will follow. I want to know you more! In Jesus' name. Amen.