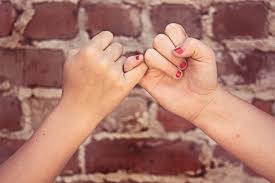 How brilliant! God uses Jeremiah remind the people to remember the covenant. It is clear from their behavior that they have not given much thought to this covenant in some time. Maybe ever! The people have no excuse, the answers to life found in the covenant aren't hidden from them.
"Cursed is anyone who does not obey the terms of my covenant!" Do they even fear or tremble at the curse? Does being obedient to God "show up on their radar" as something they aspire to be better at doing? If so, then they still have a chance to be saved from doom.
Somewhere along the line, going back generations, the people stopped focusing on the covenant. It sounds like they were eager to accept it at first. They must have believed God had their best interest at heart. And then sin crept in and distorted everything. Could it be we need to hear the same thing today? That we should remember the covenant?
Of course, we live in the times of the "New Covenant" that was initiated by Jesus' sacrifice. We'll unpack that in a second. But if this same message is relevant to us today (and I think it is), this is what God is saying about us. "Instead, they stubbornly followed their own evil desires. And because they refused to obey, I brought upon them all the curses described in this covenant." Are there curses in the New Covenant?
It would seem the New Covenant is more about an intense promise. Jesus' life was given and shed for us to be the ultimate sacrifice so that our sins would be forgiven again and again. Hebrews 7:27 says, "Unlike those other high priests, he does not need to offer sacrifices every day. They did this for their own sins first and then for the sins of the people. But Jesus did this once for all when he offered himself as the sacrifice for the people's sins."
Once and done, and our sins are forgiven. It's a miraculous blessing and showing of grace. We don't deserve it. Our part in accepting this gift is to simply believe in Jesus, God's son. Romans 10:9 says, "If you openly declare that Jesus is Lord and believe in your heart that God raised him from the dead, you will be saved."
To remember the New Covenant is to remember what Jesus did for us. When we focus on that, our hearts fill up with an unexplainable amount of peace. When we actually allow that peace to permeate a little, joy starts to bubble up inside us. That's what God wants for us. He wants us to remember Him always.

Let's pray … Lord, thank you for your grace. Thank you for what you did for me on the cross. Forgive me for times when I get distracted and blinded by evil desires and my brokenness. You are good, and your mercy endures forever. Thank you for loving me so much. In Jesus' name. Amen.