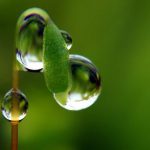 I didn't realize the book of Hosea was so beautiful with the word pictures and expressions of God's love for his people. God says, "I will be to Israel like a refreshing dew from heaven."
After the last several passages chronicling the Lord's displeasure and doom for his people's behavior, they repent. It's like a light is turned on or a veil lifted. The curtains have flung open, and God's people are back. They are following him again. The whole tone has shifted.
This passage again clearly shows how God is crying out to his people, warning us of the ways of the world (idols) that will not give us what we are looking for. Only God can answer our prayers. Only God can provide for us. "Like a tree that is always green" – that suggests plenty, provision, completeness. What a beautiful reminder.
Ask yourself: Am I wise, as is suggested in verse 9? Do you want to understand God? Do you long, like I do, to hear him? I seek discernment for my life, it works better that way. I am hopeful I living in God's will. What if I'm not? What if I'm making him angry like he was with the Israelites? It's one thing to be safely in my box, going through the motions of life, sleeping, eating, working, etc. I know God wants more for me. I want to make a difference on this planet while I'm here. Leave God fingerprints all around.
There is such a happy ending here in today's reading. This is a happy place we should all return to regularly.

Let's pray. Father God, how blessed you are when your people return to you. Joy is felt by all when we realize that we are not in charge, we don't have to be. In fact, it's better when we let you have it God. Thank you that you have patience with me. Open my ears so that I can hear you loud and clear. I want to live in your will and help others find their way back to you, too. Use my words, this blog site, my actions all for your glory. In Jesus' name. Amen.