The Preacher does it again. We are whisked back into the Old Testament to deepen the meaning of the message he is delivering. Understanding the old covenant would have been a lot easier for the Jews in his first audience. This description of the old covenant is quite something! The Preacher calls it a "dim preview of the good things to come." Since we've been living in the new covenant our whole lives, it does us good to know and appreciate the "upgrade" done for our benefit. Keep in mind your response to God for his forgiveness and grace, the gifts included in this new covenant.
One such Old Testament reference is a quote from Psalm 40:6-8 which speaks for Jesus. Do you suppose the psalmist, David knew the depth of meaning his words had as they pointed to Jesus? Perhaps David had one of those "Holy Spirit moments" when he wrote something but wasn't sure where it came from. I know there are times when things come out of my mouth that sound "so good"—I'm sure they came from the Holy Spirit!
When you think about what Jesus' sacrifice did for you, you can't help but feel honored and blessed. The psalmist was giving thanks to God for all his blessings. This response gives us a good example to follow when it comes to our attitude and faith mindset. "I take joy in doing your will, my God, for your instructions are written on my heart." How are you joyfully seeking God's will for your life?
For much of my life, I felt like I was searching for something. I was seeking God's direction for my life. I had made a lot of mistakes, and I was ready to do it God's way instead. The Preacher gives us the intention of God's will. "For God's will was for us to be made holy by the sacrifice of the body of Jesus Christ, once for all time." God was thinking about me, and he was thinking about you! This very sacrifice was made to make us holy and free us from the chains of sin and death.
The other reference used by the Preacher is from Jeremiah's prophecy in Jeremiah 31. Ponder on these words from the Holy Spirit today. "I will never again remember their sins and lawless deeds." Forgotten. Your sins are forgiven! Don't let the guilt and shame drag you down another minute longer.
The new covenant is a big deal. I hope you're realizing this, maybe even for the first time. Jesus' sacrifice was once for all, erasing our sins. What sins are you holding on to? Is it time to let them go and fully trust Jesus?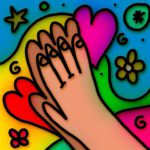 Let's pray. Thank you for caring for me so much, Lord. I am honored to be part of your new covenant. Deepen my understanding to appreciate all that you endured for me and every other person. You never cease to amaze me at how you work in this world. Thank you for forgiving my sins. Help me let go of the hurts and failures that keep my stuck. I want to break free and be more like Jesus. In Jesus' name, I pray. Amen.