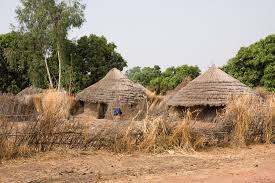 We've heard the phrase, "it takes a village" as it refers to how important it is to be in community with others. We all have something to give. God made us that way. Projects often don't get completed without everyone pitching in.
God didn't design us to be alone but to be surrounded by others who love, support, and help us. We are that support to others and sometimes don't even realize it. When we act out God's calling on our lives, we are more than likely helping someone with their "village." When we get involved with projects at church and share our time and experience, we are definitely being part of a "village."
That's exactly what we see in today's reading. God had a task to complete. He gifted the people he needed to get the job done. In yesterday's reading, the supplies needed were provided by those with willing hearts. The supplies continue to be provided. Today we see seamstresses, wise craftsmen, engravers, and those wanting to teach others the trade. This was such an immaculate display of community and working together.
We are always able to accomplish so much more when we team up with others. I have always been amazed at how much work can be completed on church work days or on mission trips when a team of people with desire and expertise comes together. Imagine how long the same tasks would have taken only one person!
In our reading, we learn that the people were so giving there were more than enough materials to complete the work God had commanded them to do. Isn't that just like God to provide a surplus? You'll remember the loaves and fishes from the New Testament accounts (see a few of those accounts in this reflection blog). There was more than enough for everybody.
God's economy is for abundance not for want. We know that God is the great provider. How many times do we forget that and worry about our next meal, how a project will ever get done, or for a prayer to be answered? God has our backs, and he wants for us to succeed so we can be his ambassadors in this world. He equips us for exactly our purpose.
When we have what we need, we can be confident we are walking the path God has for us. We should have the eagerness to get to work. That's another sign we are in the right "village". God will grant the wisdom necessary. When we sense that gifting, we need to look around for a village to put it use.

Let's pray. Lord, I thank you for all you have given me. I look forward to each opportunity to use my gifts. I love the wisdom and eagerness you have given me to find my place in the "village." Continue to use me and mold me into a better craftsman so that I am able to show others and lead others into a deeper relationship with you. In Jesus' name. Amen.