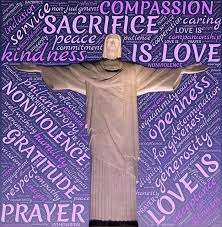 What image comes to mind for you when you see the word, "altar"? Do you imagine a pile of rocks in the middle of the desert? Do you picture a piece of furniture at the front of your worship center or sanctuary? Interesting thing about altars. They were to be the site of a sacrifice or burnt offering.
The altars we see today are not designed for that purpose. In fact, most of them are probably made out of wood, and to slaughter an animal and burn it would cause the altar to go up in flames, too. God makes it clear here to build an altar wherever he (God) causes his name to be remembered. It is also clear he wants raw stone and not crafted stone. He also wants no steps leading to the altar.
There again, altars in today's churches are often set atop a series of steps. I'm not saying that all these churches are wrong because our need for animal sacrifices and other burnt offerings is no longer needed. Jesus came as our perfect sacrifice, and through Jesus we have forgiveness. We no longer need to bring our animals to God for spiritual cleansing.
But in Moses' time, that is what was done. God was giving this information to Moses to tell the people on his behalf. We will see other "laws" being given to Moses in the days ahead. Again, these are examples of God equipping his people. We all do better when we have direction or purpose.
So what about our altars today? If not for animal sacrifice, what is their purpose? Perhaps it's to remind us about God. After all, he said to put up an altar wherever his name is to be remembered. And he promised then he "will come to you and bless you." That's what we look for during our times of corporate worship. We expect God to be there. We all yearn for his blessing. Would he come if there wasn't an altar?
Of course he would. Where two or more are gathered (Matthew 18:20), God is there. Some of what we read in the Old Testament has been updated in the New Testament. This is probably one of those examples. It's important for us to know our history and understand what our forefathers experienced. We can feel all the more blessed that we don't have to bring smelly animals into our churches for our forgiveness or salvation.
We should, however, yearn to live our lives in such a way that honors God. When we keep in mind that he is in our midst, that he is providing for our needs, and that he loves us unconditionally, being our best for him should almost be a no-brainer. While Jesus was the perfect sacrifice, we, too, can offer ourselves to God as a living sacrifice. (Remember Romans 12).

Let's pray. Lord, I thank you everyday for what you've done for me. May my life be a testimony to you and your redemptive power. Help me see the needs of others as you see them. May I continue to use the gifts you have given me to reach people who may have drifted away from you. Bless my words today. In Jesus' name. Amen.
It only takes a second - Please follow and like us: