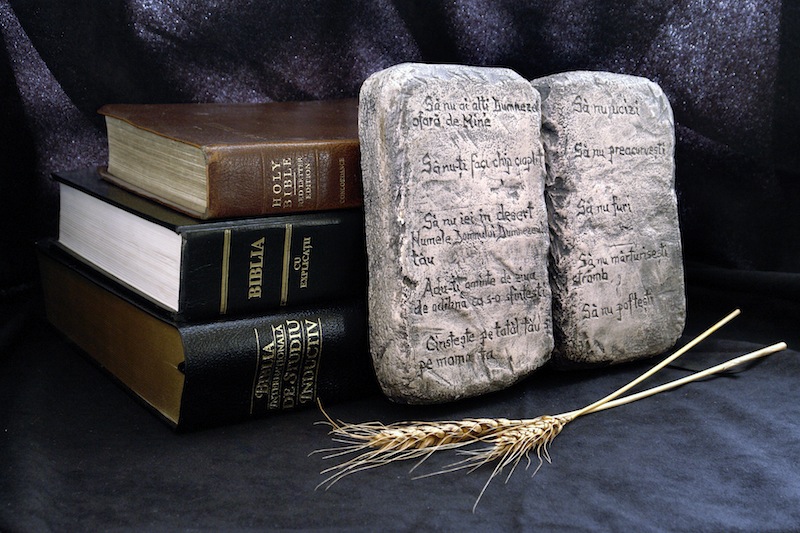 Disputes happen. I was a paralegal for many years before retiring. Working in a law office opened my eyes to humanity on so many levels. People can be ruthless and cruel. People can be greedy and disrespectful. It can be a handful to keep them in line and understanding the system. Not all negligence is punished. Not all familial issues can be resolved with dignity and grace. Without laws in place, there would be more chaos then there already is.
I can truly identify with Moses having to sort out disputes such as this. You may recall several readings ago when Moses was visited by his father-in-law, Jethro. You will recall Jethro had a solution to help Moses from losing his mind in handling all of the people's disputes.
God had another idea. He was going to give Moses the answers sraight away. While Moses seemed to have good communication with God, any of his helpers may not. It was better practice to have a rule and consequence in place so that there would be consistent handling of such matters. You'll see here God provides for slaves, injury to people and animals, and others. These must have been routine and regular problems arising in that day. Did you notice any that are still common today?
Again, as a paralegal, I know how important it is to have a law in place to direct the people. Why? Because people tend to be led by emotion and desire for power. When you have something concrete to use to help defer or deflect any confict or dispute, you are in a much better place. Consistency is also a key to success.
It's not clear when these laws were given to Moses. But the compiler of the book of Exodus has put them with the 10 Commandments. I would suppose that is to keep all of the laws together. God requested these be presented to the people of Israel. From today's reading, it is not clear when Moses did that.
So what do we take away from today's reading? I'd like to hear from you in the comments?

Let's pray. Lord, thank you for providing Moses with the laws to help him and others after him to discern your will and decrees for the people. You provide what we need and what is best for us all the time. Thank you for friends and colleagues that surround us, for family that loves us unconditionally, and for the beauty of the earth you have created. May I be forever grateful. In Jesus' name. Amen.
It only takes a second - Please follow and like us: