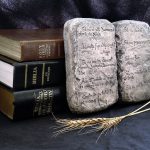 Breaking the law, God's law isn't anything we intend to do. At least for most of us. Sometimes it happens. When we do stumble, we look for God's mercy and forgiveness. When we seek, we find it. God is merciful and he does forgive, so long as we have also shown mercy.
What are ways that we can show mercy? We can start by not holding grudges against others. We need to forgive and forget, just as our Father in heaven.
This passage also speaks a lot to our attitude toward others. Being judgmental is something we definitely should NOT do. We all do it though. The example given was really good, didn't you think? Since I've read it before, I'm always convicted to be more attentive to the poor and needy, than to respond to the rich and sophisticated.
And isn't it a good point that it is the rich who are the very ones who make our lives more difficult. They are the rule enforcers, and many of those rules are designed to help them, the rich, giving no mind to the needs and position of the poor, or even middle class sometimes. That is a bit of a frightening realization – nothing has changed. Unfairness still exists.
I like how we have here the simple reminder of the "royal" law. We may also know this as the "golden rule." That is, "Love your neighbor as yourself." Yes, it's Biblical, and what a good reminder. It sounds simple, but sometimes it is very difficult. Not everyone is lovable. I'm sure each of us knows someone who is stubborn, hateful, grumpy and mean. I could go on with adjectives, but it is set out clearly for us – love your neighbor! Period.
How can you be a better neighbor today?

Let's pray. Lord and Father from above I thank you for this reminder. Your Word never returns empty, and today it has left an impression on me. Thank you that you have given me the resources to help those in need. Help me go beyond just the financial but to really be present for those less fortunate. Forgive me for times when I have not shown the mercy on others that would have been appropriate in your eyes. Forgive me for any hurtful things I may have said or done. Lead me to those people who need to hear from you today. In Jesus' name. Amen.