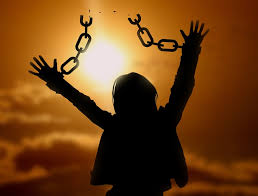 There is so much to digest in today's passage. I don't even know where to begin. How many times have you heard people say, "well if God forgives me for my sins, then I guess I can keep sinning." (And, if you haven't audibly heard anyone say this, then you can certainly watch their behaviors and figure that's what they must be thinking.)
It's not a new thought, and Paul calls it out! "Of course not!" He says. Such an attitude is taking advantage of God and his gift to us. He's not saying we won't sin, because we will, but we shouldn't sin on purpose. That would surely show we don't understand the seriousness of sin in our lives and how precious God's forgiveness is – Jesus had to die!
So what does Paul mean when he says we have been united with Jesus in his death? In our baptism, we are said to die with Christ. The chains of sin are broken. We now have the chance not to sin. Before it was only the dead who could not sin. Our lives belong to Christ until we rise with him in our own death. Our life has a brighter future than it did before.
We are no longer slaves to sin. We have been set free. We have a new life in Christ. What does that look like for you? Do you still take God's grace for granted? Take some time to wrestle with this a bit.
The power of sin has been broken. That means we have been set free from the rebellious nature we inherited from Adam. When we sin, it is the sin that is evil, not us! It's a lot to wrap your head around. I had to read and reread this passage today.
There is so much sin in the world, and Satan is still very much alive and well. Paul says, "Do not let sin control the way you live; do not give in to sinful desires." That can be hard when temptations are put before us. Especially if we are feeling weak for one reason or another.
What do we do when we are feeling weak and vulnerable? We need to give ourselves completely to God. We can imagine everything we do is for the glory of God. It's hard to sin when we have a mindset like that. We need to remember what Paul said, "Sin is no longer your master, for you no longer live under the requirements of the law. Instead, you live under the freedom of God's grace." Hallelujah!

Let's pray. Lord, I give you thanks for how you have rescued me from sin. I have been set free because of your sacrifice. Fill me with courage to stand strong. May my heart repel evil desires for I no longer need to let them control me. Show me your ways and give me your power so that I can do good in this world. In Jesus' name. Amen.
It only takes a second - Please follow and like us: