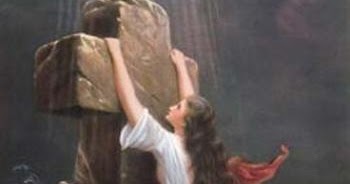 Have you ever suffered because of your faith? Maybe you were ridiculed or teased. Maybe you were excluded from certain activities. I'm willing to wager you haven't spent time in jail because of your faith. Jesus knew the people of the church in Smyrna were truly suffering. It wasn't going unnoticed. Likewise, we can be confident our own suffering is not unknown to Jesus.
Jesus' message to the church in Smyrna was to hang on – don't let your persecution and suffering turn you from God. Sometimes we can feel like that, like we're hanging on by a thread. We're feeling uncertainty, disillusionment, loneliness, sadness, etc. It's the perfect time to lean in to God's love instead of pushing away. Jesus words of encouragement to the church in Smyrna resonate with us, too.
If you're keeping a table, as I mentioned in the last entry, you'll notice you don't have anything for the "Rebuke" column. They were doing their best considering their circumstances. Smyrna was a harbor town located on the Aegen Sea north of Ephesus. The residents were known to be very faithful to Rome. You can imagine the difficulty a small Christian church would have with being pulled toward Rome or the the Jewish culture. Jesus was also calling out the Jews here as evil because of how they were behaving (not like Jews).
What a promise! For those who hold on to their faithfulness, they will have the crown of life and victory over second death. I know what first death is, when we breathe our last breath. But what is second death? As I understand it, John will expound further later in the Book. For now, we can understand it as what happens to those unbelievers who don't repent on judgment day and have to die again and be separated from God forever. That sounds like a great immunity to have to ensure eternal life with God.
This too shall pass. Have you ever said that? I'm saying it more and more lately. It seems to be a good thing for us to remember. Our struggles will only last for an hour (or a short time in the scheme of things). Here, Jesus' words warn of jail time for the short duration of 10 days. I don't know about you, but 10 days in jail sounds like a LONG time! But, knowing the trial would only last a short time would give hope. How striking that they would know and be prepared. But would they trust what they heard? Would they really believe this message was from Jesus himself?
We can take refuge in these words of hope as well. Jesus is aware of our struggles, and they aren't meant for forever, only for a season. Our job, then, is to remain faithful. It may not always be as simple as it sounds. We can hang on to Jesus' words here. "Don't be afraid of what you are about to suffer." If we stay true, the reward is eternal life. It is put beautifully here, "I will give you the crown of life."
Jesus is addressing the church in Smyrna, but he may as well be addressing us. I think we are going to see messages we can resonate with going out to all seven churches. These are timeless truths that set us up to be strong when we feel weak, to rely on the power of God to navigate through life.
Take some time today to just be still and feel God's peace wash over you.

Let's pray. Thank you, Lord, for how you are working in my life. I may be overwhelmed at times and question every move I make. I heard your voice in today's reading telling me to just be patient and trust you. This suffering is only for a season. Fill me with the confidence I need to help others and be a beacon of light shining in the darkness. In Jesus' name. Amen.