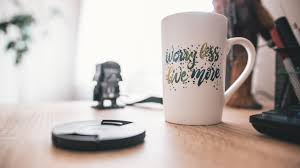 There are so many great truths and promises in today's reading. I would love to talk about working hard, or telling the truth, or how the way of the godly leads to life. Instead, we'll reflect on something we all do or have done. Worry.
Why do we sometimes consume ourselves with worry? Do we think that the outcome will change if only we worry more? On the contrary, I believe we are more apt to change things if we trust more. When we can let God handle it, it's in much better hands. Don't you agree?
Where does worry come from? Our own feeble fears. Isaiah 41:10 says, "So do not fear, for I am with you; do not be dismayed, for I am your God. I will strengthen you and help you; I will uphold you with my righteous right hand." There you have it. That sounds easy enough! We just need to remember that God is with us. When those doubts and fears start creeping in and start telling us "stories" of what might happen, we need to smash them and remember this promise. Psalm 34:4 also comforts us as follows: "I prayed to the Lord, and he answered me. He freed me from all my fears."
Our verse today, Proverbs 12:25 says, "Worry weighs a person down; an encouraging word cheers a person up." How true this is. When we worry, we are certainly not vibrant and full of life. We are broken, or at least crumbling, feeling a little bit sick inside, unsure of what is going to happen and imagining the worst. That kind of outlook is most certainly weighing us down. God doesn't want for us to feel that way.
Even Jesus told his disciples not to worry. Be like the birds of the air. Our heavenly Father loves them and provides for them. How much more he will care for and provide for us! Think about it. We should be encouraging others, and ourselves, in times of worry.
Maybe you know someone who is going through a rough patch right now. They are likely to be worrying about how they are going to get through this, or what life will look like on the other side. Maybe that someone is you. In any case, how can you provide encouragement? In what ways can you support someone? Maybe it's with a greeting card, or a phone call, or a surprise drop-by visit. An encouraging word can go a long way in helping someone who is in the snare of worry.
Take some time today to think through an action plan that will help someone break from the worry that is consuming them. It's time to bring a little joy to cheer them up.

Let's pray … Lord, help me to see the ones around me who are stuck in their fears and worrying about something. Give me the words to say that will bring cheer and comfort. In my own life, forgive me when I focus on my fears of how something is going to work out rather than giving it to you to handle. Thank you for how you calm my fears and bring peace to my heart. In Jesus' name. Amen.
It only takes a second - Please follow and like us: