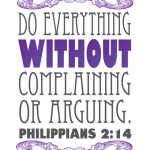 There is so much wisdom to be had in the book of Philippians. Today's reading goes on to show us how we should live with our new responsibility. We are to live Christ-like lives, be open and ready to share the good news with others. With this, comes responsibility.
I think of a story I heard, and you may have witnessed something like it yourself. We've all seen the 'fish' bumper decals that signify a Christian. This goes back to the time after Christ's death when believers were fearful. The used this symbol as a way of identifying themselves with  other believers. By drawing a fish in the sand, if someone knew what it meant, you were brothers  in the faith, etc. If they looked at you funny, you knew they were not believers, etc. With that being said, the story goes that the driver of the "fish car" was acting cruel, yelling, having a road rage moment. Not too Christ-like. Yet, he was telling the world with his fish sticker that he was Christian. This is an example of not taking responsibility for the great gift we have. He was not reflecting the values we all possess as followers.
With this responsibility, the gift of salvation is ours. We are saved. We are free. How does all this work in your life? Not sure? Be assured of this, "for it is God who works in you to will and to act in order to fulfill his good purpose." God has a plan for each one of us, it is our responsibility to live it. We are not all called to do the same thing, but what is the same is that we are working for God's purpose.
The next section that talks about grumbling has always made me smile. We all know grumblers, don't we? Sadly, I even know people that don't seem happy unless they are grumbling. The reference here to grumbling and arguing is really meant (in the Greek) to be having an intellectual and moral battle with God, not each other. A good example of this happens in Exodus with the ungrateful Israelites grumble about what God is doing versus what they wish he was doing for them. Ungrateful. Sometimes we, too, can be ungrateful for the blessings God gives us.
Suffice it to  say that if we are grumbling or arguing, we are not praising God. All of our energies are spent keeping us from God rather than connecting to him. That's not what makes for a joyful life.
We need to be full of Jesus for the benefit of others. When we are, we are "shining like the stars." Because of the joy we have, due to our healthy relationship with God, we yearn to live and serve others. How are you serving? Are you feeling the joy?

Let's pray. Father God, I lift you up today. Forgive my grumbling and questioning mind. Wash me clean so that my joy will be full. Help me to reflect you in all I do. May there be no question "whose" I am, and that I am living for you. Thank you for the great sacrifice you made for me. I am so grateful for your Word and the promises you have for me. May be I wholly devoted to you. In Jesus' name. Amen.