Jesus has died. His body has been carefully laid in Joseph's new tomb. The women know where that is, and they hurry now to prepare the burial spices. But it's too late now since the Sabbath is about to begin. They are going to have to wait. I can just imagine how hard it was for them to wait. Even a few hours would make a big difference in the decay of a corpse. Still, their tradition would have them wait.
They didn't know to be waiting for the resurrection. We have that knowledge, and yet we are still in a waiting pattern, aren't we? Our wait to celebrate the resurrection of Jesus on Easter morning is only a short wait. But the wait we have for Jesus' promised return is much longer. How long, we have no idea. We just need to patiently wait with faithful expectation.
Holy Saturday is marked by darkness, waiting in grief, and lots of unanswered questions. Even though Jesus did his best to answer every question he could think of, some of his explanations fell on deaf ears or those not ready to hear. Today we are invited into the experience of darkness. What questions do you have to wrestle with? We can find rest knowing that God is alive, working through the messes of our lives. God has not forgotten us!
What do you do while you're waiting? Does life just go on? Or are you seeking a deeper relationship with your Creator and Savior? Personally, I devour God's word like there's no tomorrow. I want to understand the truth God has given us. It seems to be a gushing flow when you start to tap into it.
In this time of waiting, we can reflect on who Jesus is both by reading about his life and how he interacted with those he encountered. We can also contemplate on how Jesus is portrayed by the prophets of old. Isaiah points to Jesus on many occasions. I was reminded of Isaiah 53 and think this would be a wonderful prophecy for us to ponder today as we wait.
Wasn't that something? I had forgotten the beauty and how we can so clearly see Jesus and what he endured for us. Isaiah's words can really rock our world, wouldn't you agree? Here are some of the lines that really speak to me. "He was despised and rejected—a man of sorrows, acquainted with deepest grief." One of the songs I have been singing this week is called "Man of Sorrows." Powerful. I am free indeed!
While we may be sad in our waiting, Jesus bring hope. These words from Isaiah 53 shed light on that hope and reason for celebration. "And because of his experience, my righteous servant will make it possible for many to be counted righteous, for he will bear all their sins."
Is it time to be a rebel for Jesus? What does that even look like? There are many things we can do while we wait. Spending more time with Jesus in the Word, worshipping him with grateful hearts, and serving like Jesus would. While we wait, we can do our part to be Jesus' hands and feet in the here and now.
How will you respond to Jesus' call on your life?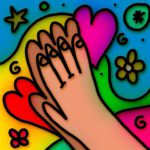 Let's pray …
Father God, waiting can be hard. Thank you for how you make all things new. I especially liked seeing how centuries before, you spoke through the prophet Isaiah to speak of Jesus' sacrifice for us. Help me be patient as I await your return. While I'm waiting, use me to reach others and share your love with the world. In Jesus' name. Amen.