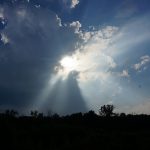 Straight from the mouth of Jesus. We hear him talk about the future. There are so many things we could focus on in this one passage. I'm curious what stood out to you as either surprising, wonderful, frightening? Feel free to comment in the comment section to begin some conversation. Bottom line, we aren't meant to know when this will happen, but Jesus has given us some clues.
Many of these clues have been evident over the ages, and people have thought and even predicted the end of the world. I prefer how Jesus says, "the kingdom of God is near." I'm sure when Jesus told them about the temple being destroyed, the people could not imagine it would happen again. This was the rebuilt temple after all, and it was so majestic! But it happened, just as Jesus said, in 70 A.D., never to be rebuilt again.
The people of Jesus' day were inquisitive, just like we would be. Jesus had quite an audience we're told. At this point they were receptive to his teaching. Every generation has been intrigued with the future, then and now. Jesus has given us quite a few things to watch out for. But he doesn't want us to worry.
His words, "don't panic" are helpful here. While there will be "terrifying things" there will also be "miraculous signs from heaven." So good and bad for sure. And before all of that comes the persecution we'll face for being followers of Jesus.
I know this is not a new phenomenon, but there seems to be such a pull back from Christian tradition in our schools, communities and nation. While there has been separation of church and state in the U.S. for years, it seems lately the tolerance level  exists for anything BUT Christianity.
I am proud to be a Christian, a follower of Christ. I am, however, offended by how some Christians act, misinterpreting Scripture, tearing down rather than building up, not taking on the heart of a servant FIRST and foremost. It is sad to see that in fellow believers, and it doesn't sit well with people on the outside looking in.
While I hope I'm never put on trial for my faith, I have full assurance that Jesus' words are true. "I will give you the right words and such wisdom that none of your opponents will be able to reply or refute you!" When I think of the wisdom he imparted on those that asked him the trick questions in our recent readings, I know that I will be covered in his wisdom because of this promise.
We may lose a lot in this life, but if we stand firm as followers of Jesus, he says, "you will win your souls." 
Have you ever said, I wish Jesus would return today? I have, in particular, when the world seems a little chaotic and it would be so fantastic to see the Son of Man descending on a cloud, ready to redeem his followers. But this day will come after many frightening things. Things that are likely to scare us and push us away from God, rather than closer, to take refuge in him.
Jesus gave us these instructions about being ready for this future reality. "Don't let that day catch you unaware, like a trap. For that day will come upon everyone living on the earth. Keep alert at all times. And pray that you might be strong enough to escape these coming horrors and stand before the Son of Man."
It's a reality that's coming. Whether or not we get to see it in our lifetime is what we don't know. I'm going to be ready, are you?

Let's pray. Thank you Jesus for this glimpse into the future you have provided us. There are so many things we see in our world that seem familiar to what you've warned us to be watching for. I want to be vigilant in my walk with you so there is no question of my allegiance. I want to take on the heart of a servant and be known as a giver. If questioned, I know you will give me the words to speak so that you will be known. Help me to set aside any fear or dread, worry or anxiousness. Fill me with your calm and peace. May  I enjoy your beauty every day and find your hand at work in my life. Thank you for what you are working through me and for the people I can help along the way. In Jesus' name. Amen.