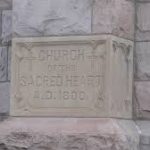 You may recall this parable was in Mark, one of the other books of the Bible we've walked through. I love it when Scripture confirms itself. There are a few differences, but there would be anytime different storytellers tell the same story. What is significant here is the religious leader's response. They didn't want to lose their authority with the people if they did to Jesus what they really wanted. That time would come soon enough. For now, they were people pleasers.
Jesus is brilliant in how he uses stories to call out the leaders. I'm not sure the people catch on, but the leaders sure see themselves in the story. So if they can see themselves as the wicked farmers, don't they realize they are behaving badly? It's all part of their delusion, I suppose. So how does this speak to us today?
I'd like to share one of my favorite worship songs, CORNERSTONE. You can listen HERE. We sang it in church on Sunday during the Spanish service. (But I'm sharing the English version here!)
We hear Jesus explain the example he uses by saying, "The stone that the builders rejected has now become the cornerstone." Jesus is our cornerstone. We should build our lives on him. He is our Lord! We should not reject him but rely on him. We are weak but made strong through Jesus' love! He walks with us through every storm of life we may face. No struggle is too big for him, and we need to stand firm while we wait for his return. 
The next two lines are very interesting: "Everyone who stumbles over that stone will be broken to pieces, and it will crush anyone it falls on." What do you take from that? I suppose people who choose to disregard Jesus, misinterpret his love or just plain ignore it, in essence, "stumble" and will remain broken. Jesus is the final judge, and it is up to him if we have been true followers or if we will be crushed.
I know where my allegiance is, do you?

Let's pray. Lord, I come to you broken and weak. I know in my weakness you shine through as my strength. I am going to need you as we forge through this storm. Thank you for giving me wings and the courage to spread them. You have put me on a path of service, and I pray you continue to use me in that way. Continue to use our business as a means of reaching out and may it bloom into a source for hope and new beginnings. You have gifted me to serve in this way, and I thank you that you continue to mold me. May I stand on you as my chief cornerstone! In Jesus' name. Amen.