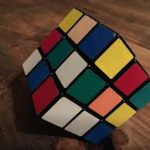 I absolutely love this passage! Persistence with patience is a beautiful pair. We are reminded that sometimes our prayers are not a once and done sort of thing. God doesn't necessarily just jump to justice when we first ask. We need to patiently wait for his answer and be persistent in our asking. Jesus gives us this example for a reason.
Now if you are a parent or have taken care of children at any time in your life, you have witnessed persistence at its finest. Children have a fantastic knack of asking and asking for things, like a cookie before dinner, or another glass of water at bedtime. Do we cave in? Do we stand firm? Do we look at the justice being served, or the harm being done, in responding to the request?
I suppose it's a little bit the same when God hears us droning on and on about the same thing. If the prayer is not immediately answered, we may lose patience and give up. We may be shooting ourselves in the foot for not being persistent. Perhaps God was testing us to see if our request was really the desire of our heart or just a passing  fancy. I could never think like God or even begin to guess why he does what he does. He is God. I am not.
Jesus gives us hope here. "I tell you, he will grant justice to them quickly!" Can you recall a time in your life when you prayed and prayed for something and it came to pass? I can remember a time. Every night my husband and I prayed for the same thing, always asking if it be God's will. We wanted so desperately for it to be, and after about twelve months our prayers were answered. Quickly? In my time or God's? Persistence with patience.
Maybe you're going through something right now and the unfairness is overwhelming. Are you being patient in waiting for God to answer your continual prayer? Have you kept on asking with an assurance of an answer?
Take a moment to reflect on what is going on in your life and if you need to be a little more patient or a little more persistent in waiting on God.

Let's pray. Father God, I do cry out to you again and again for the things that matter most to me. You hear my requests, and I know you are answering them in your time. May I patiently wait for you. Forgive me when I doubt or question or worry. I know those behaviors are not from you. Give me the strength I need to overcome the lies the evil one uses to deceive me and get me off track. I stand on your truth alone. I call on your name. You are my guide, my shield of protection and my provider. Thank you for all that you have done for me and for the justice you supply. In Jesus' name. Amen.