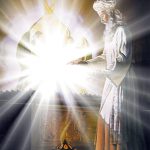 As we embark on the Book of Luke, we are just a week away from Christmas. I realize you may be reading this post sometime in the future, not necessarily in December, and that's okay. The Bible is always alive, and we can be "certain of the truth." The message is always fresh and new.
Luke's perspective of the birth of Jesus comes from Mary's perspective, wherein Matthew's account is from Joseph's perspective. Today we see how God's plan for bringing his son into the world actually started with Mary's relatives, Elizabeth and Zechariah. God wanted someone (John) on the ground, setting the stage, to prepare the way for his son, the Messiah.
John's parents were righteous and without children. We are told they were very old. I love when God uses the faithful, especially when it would be unexpected. We get a glimpse here of how priests did their work in those days. Was it by chance that Zechariah was chosen that day to enter the sanctuary? Or, had God been waiting to use that opportunity to make his move?
What was Zechariah's response? He was "shaken and overwhelmed with fear." I don't know about you, but I'm guessing my response would have been much the same. We just don't see angels every day. While we might hope for an angelic visit and a prophetic word from God, if it actually happened we might be a little afraid. At least a little.
What a message Zechariah heard. Quite unbelievable, I would say. What was running through Zechariah's head? I'm sure his prayers for a son had ended long ago as they were now old. Now, to hear from God himself that the child you had longed for would be "great in the eyes of the Lord…filled with the Holy Spirit…a man with the spirit and power of Elijah," all to prepare the people for the coming Lord. What a message! 
I can understand his moment of unbelief. It was all too good to be true. But his hesitation and doubt led to his not being able to speak…for months! That miracle is also incredulous, don't you think? But what a bold statement God makes here.
God wants us to trust him and his word to be true, too. We should not question it. Even though we may not understand it, the message is from God, and that should be enough. What doubts are you struggling with today?
God can use us all for his purposes. Don't we have the same assignment John did, to prepare the way for Jesus? It might look a little different, only because Jesus has lived, died and been risen again. Our story has even more dimensions than John's would of at the time. Are you keeping it to yourself?
We must now prepare people for Jesus' return. We don't know when that will be, but we do know we need to be ready. That is what the season of Advent is all about. It's placed before Christmas in the church liturgical year, but it is really something we should be proclaiming year round.
Advent means "coming" in Latin, so in church circles it is the coming of Christ. He has already come, and we wait for his second coming. I've also heard it said Jesus has come three times, once in Bethlehem, once into our hearts, and the last when he returns. Jesus does lives in us through his Holy Spirit, and we are empowered by the Spirit to do great things.
What are you doing for Jesus this day?

Let's pray. Father, thank you for including me in your story of love and redemption. I marvel at how your plans are always so perfectly orchestrated. May I give you free reign in my life so that you work miracles through me. I don't know what you have in store for me, but I look forward to each new day with anticipation and expectation. I pray for my children as they walk through life, that they will come to know you and appreciate all that you have done for them. May the wonder of the miracle of Christmas continue to grow in my heart this Christmas season. In Jesus' name. Amen.