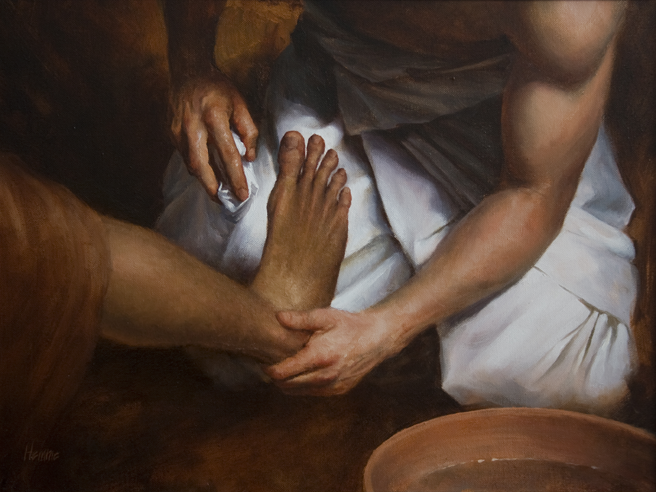 Who is Jesus? That's the theme we'll be exploring for the next few readings. This passage is certainly full of clues. Jesus has even given us an example to follow, just as he did for his disciples. What stood out to you today?
Jesus as our servant has always been a powerful image for me. Foot washing was done by the servant in the house. You can imagine the disciples' surprise when Jesus was making this offer. Peter can't get over it. Jesus told him, "You don't understand now what I am doing, but someday you will."
How do you understand what Jesus was doing? Was he simply letting his disciples know they should never feel superior to others? Perhaps the message was to always be looking for opportunities to serve the needs of others.
I can remember several occasions when we acted out the foot washing experience in a group setting. To be on the giving end is just as meaningful as being on the receiving end. As you kneel at the feet of another, you have humbled yourself and submitted to them. Your act of washing can be a cleansing or renewal of a relationship. It is a beautiful and touching example of caring for another human being.
On the other hand, being served by another is also very moving. We often have a hard time accepting help from others (or maybe that's just me being an independent person). But when you can shed your discomfort and open your heart to another caring person, there is a sense of completion. We have indeed done what Jesus expects us to do.
How often do we get so busy that we forget to serve the needs of others? Jesus gave us such a great example. We should never put ourselves above anyone else. Sadly, we see way too much of that happening in our world today. It's almost an epidemic of its own. I, for one, want to get back to the "basics" and live out the life Jesus wants for me. I want to serve him humbly and completely.
For this moment in our text, Jesus was preparing the disciples for something big. They would not understand fully at this moment, for Jesus' time had just arrived. Jesus will do his best to show them and tell them what is going to happen to him, but the disciples will still be a little confused.
The disciples were being cleansed for the work they would be doing. They would soon be responsible to carry forward Jesus' ministry and be his hands and feet in the world. Jesus knew this would be a hard job, and he wanted to set the disciples up for success.
That is our job, too. We may not have had the intimate moment of Jesus cleansing our feet, but he is living inside us now. He can cleanse our hearts from the inside out! We can also let our hearts resonate with this message. Imagine Jesus speaking these words to you. "I tell you the truth, slaves are not greater than their master. Nor is the messenger more important than the one who sends the message. Now that you know these things, God will bless you for doing them."
We don't need to focus on the blessing as some sort of reward. The mere satisfaction we receive from serving others in the name of Jesus can be such a gift. Jesus wants us to follow his example.
We're not serving for the glory either. Jesus showed us humility simply in the posture of the gesture. He also said, "I tell you the truth, anyone who welcomes my messenger is welcoming me, and anyone who welcomes me is welcoming the Father who sent me." We are to be his messengers. We want others to know and welcome our Father God.

Let's pray. Father, thank you for the beautiful reminder of what it looks like to be a servant leader. Help me to be looking for those in need of a word from you or in need of something I can offer them. Use me to be your hands and feet. Open my eyes to see and my heart to love as you love. Humble me for service. In Jesus' name. Amen.