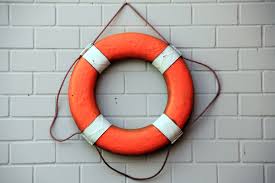 There is hope! After all the destruction and upheaval there will be restoration. God gives Jeremiah these words to keep hope real despite the judgment being endured by the people. Seeing that "light at the end of the tunnel" keeps us focused on the future.
Can you think of a time in your life when you felt hopeless? Maybe you had just lost your job or were looking for a new home in a crazy real estate market. Maybe you were suffering from a medical condition that didn't have a cure. In those dark times, it can be excruciating to think positively. Clinging to hope is all you can do!
Jeremiah's prophecies in the next couple chapters focus on this hope of deliverance. We'll see how God intends for the renewal of his people, both Judah and Israel, to take place.
We all crave that clarity in our lives to know what God has in store for us. Even if only an abstract assurance of a better life to come, we cling to it when we are feeling lost and alone. For us as Christ-followers, we have a built-in hope of a much better future. We may be living in the world now with all of its challenges, but one day we'll see Jesus face to face.
Our assurance is clear in the promises we find in Scripture. In Philippians 1:6 Paul gives us the hope that God is working behind the scenes. "And I am certain that God, who began the good work within you, will continue his work until it is finally finished on the day when Christ Jesus returns." When Jesus returns – what a victorious day that will be!
What spoke to you in today's reading? Several lines jumped out at me. "For I am with you and will save you," says the LORD." "You will be my people, and I will be your God." I even saw Jesus in God's promise. "For my people will serve the LORD their God and their king descended from David—the king I will raise up for them."

Let's pray … Lord, I am so grateful for your deliverance from evil each day. I want to serve you so that others will be able to experience this peace of being saved by you. Your faithfulness is powerful and endures always. I look forward to the day when I will see you face to face. In the meantime, thank you for how you are working inside me. In Jesus' name. Amen.