What a topic! Who ever said the Bible was not relevant anymore! We do tend to be judgmental over appearances (I don't think it's just me). I've heard tell of a pastor who, on his first Sunday in his new church, dressed in tattered clothes and entered the building like every other parishioner. You can imagine the anticipation in church that day was palpable as the people waited to hear the new preacher! What a surprise the congregation had when their pastor came from the shadows where he had been asked to wait and walked up to take his place behind the pulpit. He preached a compelling, wordless sermon that day.
James' Jewish audience must have needed to hear about the dangers of prejudice. It isn't a bad reminder for any of us. There has to be a healthy way to associate with people who are different from us. It's easy to look at people and see them through the lens of some stereotype we've learned along the way. What helps me when I'm surrounded by people who look different than me (and in Mexico I am surely the minority) is to remember God loves them as much as he loves me.
The whole discussion about rich and poor makes sense in our culture, too. Both in the United States where I grew up and here in Mexico where I now reside, there are distinctions when it comes to financial position. In James' day, there would also have been slave and free distinctions that would play into to whole matter of status.
What about this statement? "Hasn't God chosen the poor in this world to be rich in faith? Aren't they the ones who will inherit the Kingdom he promised to those who love him?" In other words, it would make more sense to show preference to the poor! But I don't think that's meant to disparage the rich. I think that I am rich beyond measure when I think of how much I have been given that isn't necessarily monetary. I think the important thing is the last part of that line is that the Kingdom is promised to those who love him. Rich people can definitely love and serve God.
God doesn't have favorites when it comes to people. We are all his favorite as the God character in the movie, "The Shack" suggests! However, Jesus had a heart for the poor and those who were weak. Luke 6:20-21: "Then Jesus turned to his disciples and said, 'God blesses you who are poor, for the Kingdom of God is yours. God blesses you who are hungry now, for you will be satisfied. God blesses you who weep now, for in due time you will laugh.'" Jesus doesn't forget about any of us!
Beyond the rich vs. poor example, we're given a very important truth. Just as Jesus told us to love one another, James is reminding us of this truth. James doesn't use any labels when he says, "Love your neighbor as yourself." James also gives us a warning about loving others. "But if you favor some people over others, you are committing a sin. You are guilty of breaking the law." Bam! No favorites!
Next time you catch a cross-country flight or simply take the bus across town, look around at what you see. Rich and poor. Dirty and clean. Happy and sad. God loves them all.
Finally, James adds some "homework" for us. "There will be no mercy for those who have not shown mercy to others." If we are looking forward to receiving mercy for our stumbles and sinfulness, we must also show mercy to others. Is that hard for you?
How are you feeling led to serve your fellow man right now? Write down some thoughts and start to process how you can make it happen.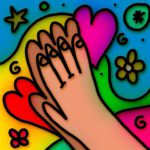 Let's pray. Father, thank you for all of the wonderful people I have come into contact with during my life. I pray, too, for those people I will yet meet who will need a touch from you. Help me to be open and willing to help them and honor you. In Jesus' name. Amen.