One of the basic themes of James' letter is that God exalts the poor and humbles the rich. Why does he do that? It's so only the humble can boast. Think about that for a second. When we allow God to work in our lives and give God the credit for what we have accomplished, our whole mindset shifts. Who gets the glory? Certainly not us, and rightly so.
Even Paul was clear on this. He told us he was glad to boast about his weaknesses because that showed God at work when he overcame times of adversity. Our text here in James is using the example of being poor and rich. James may be recalling Psalm 49:6 which reads, "They trust in their wealth and boast of great riches." Think about some wealthy people you know. Do they humble themselves before God and give God the credit for their abundance? Or are they more like the one described by the psalmist?
Money itself is not a bad thing. God often does bless his children with riches and other blessings. Our attitude is crucial, however. Do those who have a lot of money humble themselves before the Lord, acknowledging their own weaknesses? 1 Timothy 6:10 warns, "For the love of money is the root of all kinds of evil." What does your relationship with money look like?
It's good to remember that God gives good things, not trials. There is so much hope here, "God blesses those who patiently endure testing and temptation. Afterward they will receive the crown of life that God has promised to those who love him." For each occasion of temptation and testing we endure, we have a reward waiting for us. What does the "crown of life" mean to you?
To me, it is the "prize" we receive for staying true to God. When we love God and put him first in our life, we have the assurance of eternal life in his presence. The opposite of that, should we turn from God, is death. I don't want that penalty to be my destiny. The Bible tells us how to make sure.
Have you ever mistakenly associated God's hand with some calamity in your life as if it was God's fault? It would seem James knew people would, and that's why he spends time specifically pointing out that the opposite is true. James suggests "temptation comes from our own desires, which entice us and drag us away." What a great word picture! Can't you just imagine your desires dragging you down the path of sin? Is evil lurking inside us and we don't even know it? It's something for us to be aware of and stop blaming God when we're tempted.
Thankfully, we have a generous God. James makes it clear what humans do and what God does. "Whatever is good and perfect is a gift coming down to us from God our Father, who created all the lights in the heavens." God is in the business of sending blessings our way. We can thank God for sending wisdom through his word and for the Holy Spirit looking out for us. Those are two excellent examples of something perfect being gifted by God.
God chose you. You are his prized possession! How does that make you feel?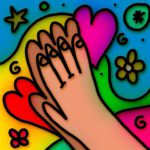 Let's pray. Father, I know you have created me for something great, and the best is yet to come. Thank you for your generous gifts of your word and your Spirit to guide. I know that when trials and temptations come, daily or otherwise, you are there to help me stay strong. Forgive me for my selfish desires that often cause me to stumble. Help me to be more aware of how my own thoughts keep me from enjoying all the abundance you offer. In Jesus' name. Amen.