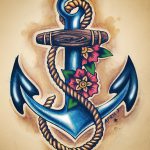 Did you know that Abraham waited 25 years from the time God promised to multiply his descendants until he had his first son? That was patience! That was obedience! That was God being true to his word. We can always be sure God will keep his promises.
There are many things in life we can not be sure of. You may have had a life experience when you were trusting in someone or something only to be hurt in some way. It's not the same with God. I especially like the image of an anchor. "This hope is a strong and trustworthy anchor for our souls." We can have confidence in this hope for God will not disappoint. We can be grounded in the truth that God loves us and has our best interest in mind.
God may answer our prayers differently than we pray. We need to be prepared for that because it's bound to happen. Why? Because God knows best. When our prayers are answered with a "no" or "not now" we often question God. In these times, it's just as important to trust him and wait for him to act. He knows our hearts and our desires. Sometimes we need to adjust those dreams just a little bit to be in line with God's will.
The promise God made to us that has yet to be fulfilled is Jesus' return. We know not when this will happen. It has certainly been longer than 25 years, but God's timing is perfect. He is waiting for just the right moment. In the meantime, we have a hope to cling to.  It important that we continue to be faithful and worshipful in our time of waiting.
Enjoy the song While I'm Waiting. Listen Here. Powerful. Be moved.
Let's pray. Lord, I am hopeful and thank you as I wait for your promise to be fulfilled. I look forward to that day when I see you face to face. In the meantime, I ask for your help to be faithful in my waiting. Thank you for the peace you give when I turn over my fears and concerns. I know you have my back. What a beautiful promise in itself. I want to be the best servant I can be. Give me a new boldness today as I move forward in your Will. In Jesus' name. Amen.